Breaking News: Tribunal Gives It To Peter Obi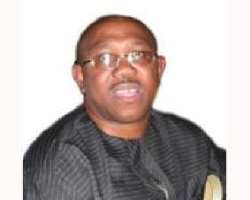 Information reaching Ukpakareports.com indicates that the election tribunal seating at Awka, Anambra has ruled in favor of Governor Peter Obi after reading a 7 hour long judgement. The judgement was read against the electoral petition filed by the gubernatorial candidate of the Hope Democratic Party [HDP], Mr. Mike Okoye against the victory of Peter Obi.
According to the information received, the Peter Obi and Mr. Mike Okoye teams are said to not be in celebratory mood. Meanwhile, Mr. Mike Okoye has indicated that he will file an appeal. The Ngige has also expressed interest in responding to the verdict.
Some have made allegations of foulplay. Sources close to the panel of Judges explained the lenght of judgement as "abnomally" lenghty. One of the sources told ukpakareports.com that the lenght of the judgement is indicative of a faulty judgement. According to the source, "it takes more words tell a convoluted lie".
Stay tuned
|
Article source