Alcaraz Beats Ruud At The US Open Final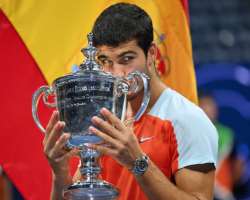 19-year old Carlos Alcaraz defeated Casper Ruud to claim the prize at the US Open final.
The win is Alcaraz's first Grand slam title in his young career and has had him move to world number one.
Alcaraz won 6-4 2-6 7-6 (7-1) 6-3 to be the youngest men's Grand Slam Champion since compatriot Rafael Nadal won the French Open in 2005.
"This is something which I dreamt of since I was a kid, being number one in the world and a champion of a Grand Slam. It's something I have worked very hard for. It is really special," Alcaraz said.