September 11, 2022

| Golf
Ewing Takes Lead At LPGA Championship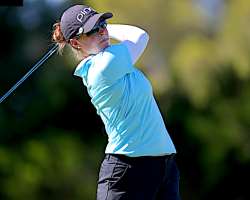 American Ally Ewing takes lead over Mexico's Maria Fassi after the third round of the LPGA Queen City Championship.
Ewing fired home a five-under par 67 to seize a one-stroke lead over the Mexican.
Reacting to the game in a post-interview Ewing said: "My mindset was just to stay within myself and execute good shots and I did that reall well. Unfortunate bogey on18, it's a tough hole, but really happy with how I played and how I handled myself and it leaves me in a good position for tomorrow'".
Ewing is seeking her third LPGA title after her 2020 Drive On Championship and 2021 LPGA Match Play.