EAGLES CAN'T DUMP EXPERIENCED PLAYERS –UTAKA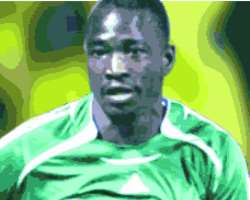 Amid clamour for a radical overhauling of Nigeria's Super Eagles, international striker, John Utaka, has warned that the country could not afford to discard experienced players simply because of agitations for young blood.
The Super Eagles crashed out in the first round of the 2010 World Cup which made officials, the public and the media alike to demand a massive re-organisation of the team. However, Utaka has warned that it will be a big mistake for the country to do away with some experienced players in building a new national team.
"You cannot discard the experienced players because at the end of the day, you would still need them in the team. I do not pick the team, but it's my opinion that you need to blend the young players with some experienced players," the 28-year-old Utaka said.
"I am yet to see any team that fielded 11 young players, even Ghana and Germany still lined up some experienced players, like John Mensah, Stephen Appiah, among others. "We cannot do without experience in everything we do, not just football." Utaka made the final squad to South Africa 2010, but did not kick a ball. Yet, he said he still has a future in the team.
"Of course, I still have a future in the national team," said the striker, who was first capped by Nigeria in 2002.
"I did not get to play a part (at 2010 World Cup), but hopefully, I will play in the next World Cup. "This was not our tournament because many things worked against us. We lost a game we should not have lost. We should understand that this is football. It did not go our way. We just have to look forward now because what is past, is past. There is hardly much we can do about that. But I believe in the future."
Utaka recently in Lagos launched the John Utaka Foundation, which is aimed at providing education for the less privileged as well as empowering youths.