Taiwo Laidi  brings Nigrerian medal to five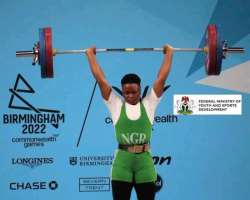 Team Nigeria athlethe Taiwo Laidi in the women's 76kg weightlifting category bagged up a silver medal at the on going commonwealth games.
Laidi lifted a total of 216kg, after lifting 96kg in the snatch and 120kg in the clean and Jack.
Her second place now brings Nigeria medal haul to 5 medals in total, 2 gold, 1 silver and 2 bronze.