Football will die without me - Ibrahimovich brags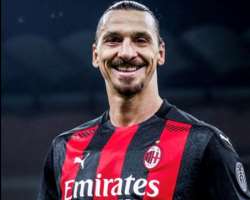 Milan forward Zlatan Ibrahimović has played down retirement talks as he rejected a question about his retirement, telling a fan: Football with die without me.
The Sweden forward is approaching his 41st birthday and, despite facing several months on the sidelines after undergoing a serious knee operation, recently extended his Milan contract.
The former Ajax man has faced questions about when he would retire for the best part of a decade and has never given any indication it is close.
And asked by a fan during an Instagram live when he planned to retire, he said: "Never. If I retire, football dies!"
Ibra will continue his rehabilitation as he looks to get back on the pitch as soon as possible and fight for his sixth Serie A title.
Despite not featuring in a large part of the matches last season, the forward received praise for his contribution in helping a young Milan side keep its nerve and clinch a first Scudetto in 11 seasons. Ibrahimovic was in the squad that won the Serie A 11 years ago.