PEOPLE ARE TIRED OF PDP – MALAM BELLO SULEIMAN, KEBBI DPP CHAIRMAN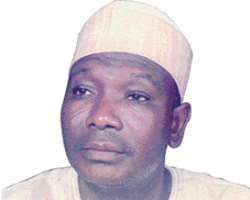 Malam Bello
Is s it true that Kebbi is PDP, and PDP is Kebbi?
That's not true. That's not true , because everybody knows that there is DPP in Kebbi State. You saw it when we had elections in 2007. Everybody knows that it was DPP that won that election. But as God would have it, the court gave it to PDP. But even at that, the general belief is that DPP won that election, including the external supervisor.
Did your party appeal the judgment?
Yes, we went on appeal. We lost at the Court of Appeal .
What is the strength of DPP in Kebbi?
Ah! DPP? Everybody knows that Kebbi is DPP state. Go around and ask, and they will tell you that this state belongs to DPP. PDP got the state through the Appeal Court at Kaduna. At the Tribunal level, the election was nullified.
But DPP is shrinking and not providing a viable opposition to the PDP government?
We are trying. But what is there is propaganda. You know the state radio and television had been mobilized against us. They don't report us. What we are doing is constructive opposition, where if the government is doing well, we say it. Where they are lacking, we say it.
Where do you think the government is not doing well?
In so many areas. First of all, the schools. They will tell you that they have awarded so, so road ocntracts. But since the inception of this government, they have not commissioned any new road. All the roads were constructed by the former government of Alhaji Aliero. We are waiting for them to commission the roads.
Even the civil servants are complaining about their salaries. They stay for 3 or 4 months without salaries. They say it is , because of e-payment. I don't know. All we know is that they complain to us that they have not been paid. We don't know why they have not been paid.
Are you saying that Nasamu's government has failed?
No, I am not saying it is a failure. We are doing constructive opposition. The fight against corruption is good and I support it. But everything is in shambles. No infrastructural development, no rural roads, and electrification. Our hospitals are empty. No drugs. In fact, Kebbi State people are seriously suffering from underdevelopment.
As we approach 2011 elections, what is DPP doing to win?
We are working hard. We are working out some strategies. Take for instance, the local government elections. Because of their unpreparedness, they could not hold it. The election was supposed to be held on June 5, 2010, but up till now that I am talking to you, nobody has given us reasons why the elections could not hold.
What gives you the confidence that PDP will be defeated in 2011 polls?
People are tired. People are tired of Dakingari's administration in Kebbi State. People are tired. Everybody is complaining. Kebbi State is one of the poorest states in this country. The macro-economy is so low. People are complaining seriously. People are dying of hunger. This situation gives us hope that by 2011, DPP will take over.
What if PDP presents another candidate?
That is their cup of tea. People are tired of PDP and the government. They could not fulfill the promises made to the people. So, even if they bring another candidate, they'll not make any impact.
What do you tell Kebbi people?
They should be mindful of PDP. PDP is a party that is anti-people. They should vote for the right candidate this time. They should not fall into another trap.