A'Madrid : Fans protest against CR7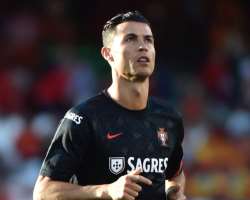 Atletico Madrid may have ruled out a move for Cristiano Ronaldo and the club's fans are very keen to stress they don't even want him.
The former Real Madrid man has been heavily linked to a move back to La Liga, with Atleti becoming the latest club to have been linked with him.
Unfortunately the fans are not having it as they have made their view on the matter very clear
However, Atleti president Enrique Cerezo poured cold water on these rumours, saying: "I don't know who invented this story about Cristiano Ronaldo to Atletico Madrid. It's definitely not true.
"It's practically impossible for him to come to Atletico Madrid."
You'd think that would be the end of the matter but Atletico Madrid fans attending their pre-season friendly at Numancia.
A banner reading 'CR7 NOT WELCOME' was draped behind one of the goals, adding to the Atleti faithful's initial protests when the reports were first revealed.