Chelsea: Jorginho Not Interested In Juve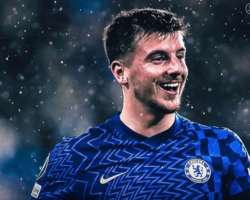 Italian mid fielder Jorginho is adamant at remaining at Chelsea despite interest from Italian clubs to take him back to Serie A this summer. The 30-year-old's contract expires in a year and Juventus are among the teams interested in the playmaker.
However, he isn't thinking about a move back to his adopted nation and insists he is enjoying his time at Stamford Bridge.
"Of course [I would stay longer], I love Chelsea," Jorginho said at Chelsea's training camp in Los Angeles.
"I feel very well here and of course, I'd like to stay. But you know, a lot is going on and we don't know. I have a contract and I love to be here. So I don't think about moving anywhere."
On the prospect of returning to Italy, he added: "Every single year [there's speculation]! I don't think like this. I just think about where I am and focus 100 per cent."
Whether the midfielder renews his deal will depend to a large extent on how the new Boehly-Clearlake ownership group assesses their squad. That remains out of Jorginho's hands but, as Thomas Tuchel's vice-captain, he is keen to help his side push on next season.
"The motivation is that I do what I love. This was my dream when I was a kid. I dreamt that I could win – and so if I win the same title it is still special. I look at my medals every day and love them. It's why I want to win more.
"One of the [motivations is to win the Premier League], I still have a few left. I need to work really hard to achieve those trophies and that is what I do. What really counts is the results at the end of the season. So I prefer to talk at the end of the season about what we've done."
Chelsea are on the verge of signing Raheem Sterling from Manchester City and are in talks with the Premier League champions over defender Nathan Ake.
The Blues have sounded out both Bayern Munich's Serge Gnabry and AC Milan's RafaelLeao as alternatives to Leeds forward Raphinha - who now looks set to join Barcelona.
The pair are only being considered as part of a wide range of potential targets as Chelsea reassess their next move in attack after Raphinha rejected their £55million approach.