NLC, CSOs Ask Jega To Shift 2011 Polls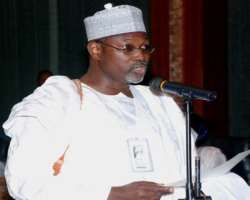 PHOTO: INEC CHAIRMAN, PROFESSOR ATTAHIRU JEGA TAKING HIS OATH OF OFFICE INSIDE THE PRSIDENTIAL VILLA A FEW WEEKS AGO.

ABUJA, July 23, (THEWILL) - The pressure is mounting on the Independent National Electoral Commission (INEC) as the Nigerian Labour Congress (NLC) and Civil Society Organizations (CSOs) today asked the National Chairman of the commission, Prof Attahiru Jega to move the 2011 general elections to April 2011.
National President of the NLC, Abdulwahab Omar led other members and leaders of 16 civil society groups to INEC headquarters where they met with Jega and other federal commissioners of the commission.
They declared that it is becoming clearer that the country is in a state of emergency, occasioned by the huge task producing a new and reliable voters' register, which would cost the commission N72 billion naira, going by Jega's computations.
"Considering the critical importance of a fresh voters' register to the conduct of credible, free and fair election in Nigeria, the forthcoming elections should hold in April 2011. In this regard, we demand that the amended section 76 (1) and (2) of the constitution which now provides that election must hold between 120 to 150 days to the expiration of the tenure of the incumbent political office holders, should be deferred to take effect from 2015", they said.
They also asked the legislature and executive "to immediately appropriate and disburse funds necessary for the conduct of credible, free and fair elections beginning with the production of the new voters' register."
Responding however, Jega insisted that the commission would not do anything contrary to the constitution, which he and the federal commissioners swore to but that INEC would do everything to ensure the elections hold next year January.
He said, "It is a difficult task and formidable challenges but I want to assure that once we get the required funds, we shall forge ahead and the challenges can be overcome. We have engaged government on funding and we are discussing with credible vendors and suppliers of the machines to be used for the voters' register."
Jega asked Nigerians to be actively involved at all levels of registration and also be involved at stopping irregularities during the processes of the election saying, "If Nigerians become vigilant and alive to their responsibilities, the work of reviewing the voters' register would be made easy."
Civil society groups that met with Jega and the Federal commissioners were Alliance for Credible Elections, Centre for Democracy and Development; Civil Resource Development and Documentation Centre; Civil Society Legislative Advocacy Centre; Community Action for Popular Participation and Electoral Reform Network.
Others include, International Press Centre; Make Your Votes Count; Nigeria Bar Association; Open Society Initiative for West Africa; Open Society Justice Initiative; Orderly Society Trust; Right to Know; Transition Monitoring Group; Young Peoples Initiative and Youth Action Initiative Africa.