RIBADU AND THE POLICE SERVICE COMMISSION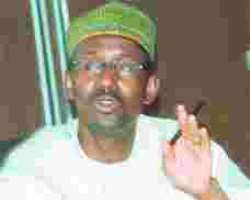 Ribadu
Sometime in 2008, the Police Service Commission PSC demoted the former EFCC boss, Mallam Nuhu Ribadu from AIG to DCP citing a breach in procedures in the promotion of police officers. But one question that remained unanswered by the commission is why former President Obasanjo was not stopped when he promoted Mallam Nuhu Ribadu to the position of AIG?
It took the departure of Obasanjo for the PSC to redress the seeming anomaly. The PSC in a statement at that time told Nuhu Ribadu to accept his fate just like
his colleagues who were also demoted but the ex-EFCC chair decided to drag the PSC and the then IGP to court over his demotion because it had a political undertone. As we may also recall, the PSC and the then IGP claimed that they were acting in line with the Acts establishing them.
They both abused the constitution of the Federal republic of Nigeria by hastily delivering a judgment in a case that was pending before the court. Barely two years after, the PSC on the 25th of May 2010 released a statement stating that Mallam Nuhu Ribadu has been reinstated to his position as the AIG and he would now be entitled to the privileges and benefits that accrue to a retired AIG.
The commission's spokesman also denied government's influence in its new decision.
But everyone knows that the PSC is directly under the executive arm of government and its approval for demotion of Nuhu Ribadu from AIG to DCP on Tuesday 23 December 2008 was endorsed by the then President, Umaru Yar' Adua.
Even though it was a widely believed then that the Yar' Adua government was out to punish the former EFCC boss, the presidency was quick to dispel such notion by ordering the release of Mallam Ribadu's certificate after barring him from joining his colleagues in the NIPSS graduation ceremony.
And after over a year in exile, Mallam Ribadu has suddenly found favour in the eyes of the present government. He was rumored to be considered for a possible appointment under the Dr. Goodluck Jonathan administration. This rumor was confirmed when President Jonathan visited Ribadu while on a Nuclear summit in the U.S. Speculations about Ribadu's home-coming was further confirmed with reports that all charges against him at the Code of Conduct Tribunal has been dropped.
Now the question is, what has suddenly happened to the action of the PSC which it claimed was in line with the Acts establishing it? Also, is there no more a breach in the procedures that saw the promotion of Mallam Ribadu from DCP to AIG? The inconsistency in PSC brings into question its independence and the purpose for which it was established. I think the PSC needs to give a satisfactory answer to each of the questions above if it wants to be seen as a reputable organ of government.
Aregbeshola Mobolaji [email protected]