Jonathan Presents N236.5B NDDC Budget To N/Assembly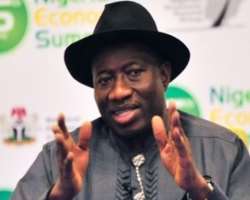 PHOTO: PRESIDENT GOODLUCK JONATHAN.

ABUJA, July 20, (THEWILL) - A budget proposal of N236.587 billion naira for the 2010 fiscal year for the Niger Delta Development Commission (NDDC) has been submitted to the House of Representatives by the President, Dr. Goodluck Jonathan.
The 2010 budget, which represents an increase of 84.3 percent over the 2009 budget of N128.496 billion naira, was contained in a letter to the Speaker of the House, Hon. Dimeji Bankole and read on the floor of the chambers by Deputy Speaker; Hon. Usman Bayero Nafada, represents an increase of 84.3 percent over the N128.496 billion naira budget for 2009.
The proposed budget is made up personnel expenditure of N5,860.25 million naira, recurrent expenditure of N6,964.48 million naira, capital expenditure of N1,730.55 million naira and projects (development) expenditure of N222,032.11 million naira.
President Jonathan in the letter urged the National Assembly to grant the budget an 'expeditious consideration and approval' noting that the submission of the budget proposal was in line with section 18 (1) of the Niger Delta Development Commission (Establishment).
He said the expected sources for funding of the budget include N91, 582.63 million naira from revenue brought forward, N35,621.77 million naira from federal government contribution (submission by Mr. President), N9,012.99 million naira from federal government contribution (excess crude arrears) while contribution from oil companies is to yield N100 billion naira with internally generated revenue pegged at N370 million naira.
Details of the budget shows that N36, 375 million naira has been earmarked for the construction of nine kilometer Arochukwu (Abia) to Atan Onoyom (Cross River) to Itu River Bridge to Ekim Itam while N600 million naira is for the construction of East West road from Mbiama Junction to Igbogene, linking Bayelsa to Rivers state.
N402.235 million naira is voted for the conversion of empty fruit bunch into fertilizer (bio fuels), N304.5 million naira is for agricultural skills development training of 4,000 farmers in high income yielding agricultural enterprises at Songhai, Amukpe in Delta State while N336,895 million naira is earmarked for agricultural extension services and support services in the entire region.
The NDDC Technical Aid Corp scheme is to gulp N1 billion naira, Burnt Brick Industry, Ndele, Rivers state is allocated N500 million naira while the production of glass in conjunction with Ghani Group from Pakistan was allocated N522,500 million naira.
Others include N300 million naira for agricultural and farm implements and assembly plant in partnership with Czech companies with N1.2 billion naira voted for mass transit phase two for the Niger Delta Region and development of Mechanic Workshops and Motor parks.