Oni's Tenure As Governor Ends In 2011 – Federal Judge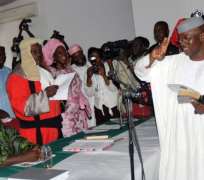 San Francisco, July 16, (THEWILL) – A Federal High Court in Jos, Plateau State has ruled that the tenure of Ekiti State Governor, Mr. Segun Oni of the Peoples Democratic Party (PDP) would end in 2011 putting an end to the controversy over whether Oni's tenure started afresh for a four-year term after he won the re-run election in April 2009. Oni was first elected in 2007 before an Appeal Court annulled the election and ordered a rerun in 63 wards in 10 Local Government Areas out of the 16 in the state while the court declared results from the remaining 6 Local Government Areas valid.
The Progressive Peoples Alliance (PPA) in the state filed the suit to clarify Oni's tenure.
Justice Ambrose Alagoa in his ruling said the re-run election was not a fresh one but a supplementary election which held in areas where elections did not hold initially adding that the oath of office Oni took in 2007 is the one the constitution recognized, clarifying that the second one in 2009 was a mere formality.
But the Chief Press Secretary to Ekiti State Governor, Mr. Wale Ojo-Lanre has said the 'Federal High Court, Jos judgment cannot stand the test of judicial precedence', saying; "Section 180 (subsection 2a) of the 1999 Constitution is clear on when the tenure of office of governors and presidents ends and this has been settled by the Supreme Court."
Ojo-Lanre in a statement emailed to THEWIL described the judgment as "curious, strange and a pyrrhic victory for those who are desirous of getting power through the backdoor, noted that Constitutional matters like the one on tenure of elected public officers can only be settled by the Supreme Court."
He said, "Even as we are not afraid of standing for elections anytime provided the Constitution is followed, we wish to state that this judgment cannot withstand test of judicial precedence and will definitely fall flat like a house of cards at the appellate court.
"We are definitely going to appeal the judgment immediately because we know that it is a known fact that in the legal circuit, the judgment of a lower court cannot supersede that of the Supreme Court and in this case, there is a subsisting judgment of the Apex Court.
"Most importantly, it is provided in Section 180 (subsection 2a) of the 1999 Constitution that the governor shall vacate office at the expiration of a period of four years commencing from the date when he took the Oath of Allegiance and oath of office.
"We are not afraid of standing for elections at any level, even at the shortest notice because PDP is the party to beat in Ekiti.
"Therefore, we in the PDP are not bothered by the court judgment because whether the governorship election is held next year, 2013 or even next week, we are sure of winning resoundingly."