WORLD CUP FINAL BALL AUCTIONED OFF FOR $74,000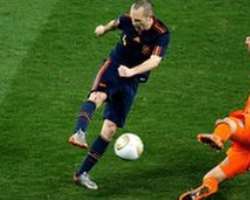 Spanish fans have bought a ball used in Spain's World Cup final win over Holland for £48,200 ($74,000) in an online charity auction.
Proceeds from the sale on eBay are due to go to 46664, Nelson Mandela's campaign to prevent HIV/Aids.
Related stories
Spain return to rapturous welcome http://www.bbc.co.uk/sport2/hi/football/world_cup_2010/8811424.stm
World Cup final photos http://www.bbc.co.uk/sport2/hi/football/world_cup_2010/8687514.stm
Spain beat the Dutch 1-0 in Johannesburg last Sunday to win their first world title.
The design of the Jabulani, as the ball used in South Africa 2010 was known, was criticised by some.
Some likened it to a "supermarket ball" and it was held to be unpredictable.
But Adidas insisted the ball's "radical grip 'n' groove" technology allowed "exceptionally stable flight and perfect grip under all conditions".
The company said 133 bids had been placed from 55 international bidders.
Ruth Szyszkowski of eBay said the ball used in the final – or "Jo'bulani" as it was dubbed – had sold well both because of the controversy and the charity involved.