HOME GROWN JABULANI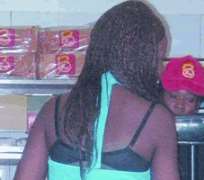 Up Rangers' bra
In God's name why didn't you just save us the agony and wear that black bra alone? As we can clearly see, it is sexy enough to be worn as a top. Why waste your hard earned money on that chiffon alter neck when you knew that your flying bra would feed the eyes of every Obasanjo, Shonekan and Babangida? You have been sentenced to one year of bra therapy and
ordered to pay a
fine of N500, 000.
…Cup runneth over
Are you just back from the plastic surgeon? That only explains this your breasts display. My jury has decided that since you love to flaunt your boobs, we hereby send you to our boobs remand home at Koma hills for six months with an option of N700, 000 fine.


.


40ft container
Section 123 subsection 23a of the cleavage code states that ' before walking out in the morning take a look at the mirror and double check if your girls are classy or trashy'. Well madam, you just flouted that law with those heavy-duty containers that should have been better hidden at Tin can ports terminal.
You have been pronounced
guilty and fined N1million.


Broke oil rig
My dear, how many yards did you use in sewing that skirt? Haba! If you continue like this, you will make the life of our brothers in Aba miserable. What actually came upon you that you decided to show-off your oil block when you knew there are no refineries in Nigeria? You are hereby sentenced to Aba for three months where the chairman of the fabrics'
sellers would give you
further directives.


Suicide mission
Aunty, are you on a suicide mission? You could hardly breathe in that corset. Infact all evidence showed that you were panting for air when the ever-efficient fashion police nabbed you. With all authority vested in this court , we hereby summon your tailor (designer) to appear at the next hearing
because he has some
explanations to make.


Drag queen
Mumsie, you need to slow down. Or is it Halloween season?
You are elegantly over-dressed in this costly costume. My jury is on its knees; wailing and weeping profusely and rolling on the floor. Try something simpler next time. For your punishment we will have to send that dress back to Tiffany to adjust it to a size 12 for your daughter. Pay a fine
of N1million.