STATE OF EMERGENCY NECESSARY IN S'EAST — EKWEREMADU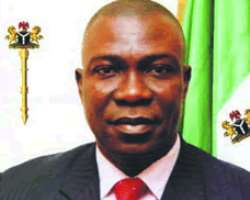 Ekweremadu
The Senate has insisted that a state of emergency be declared in the South East because of incessant and increasing spate of kidnappings, which is threatening the peace and security in the region.
Senate President David Mark who first called for state of emergency drew the ire of the people of the region. But his deputy, Senator Ike Ekweremadu, in a chat with newsmen yesterday in Enugu, insisted that the situation in the zone is so bad that a state of emergency is required to put things in order.
He, however, explained that state of emergency has been widely misunderstood in Nigeria arising from the abuse of the last administration on its application, recalling that when a state of emergency was imposed on Plateau State, he advised Governor Joshua Dariye to challenge his removal in court.
Said he: 'It's a pity we didn't have the opportunity of the Supreme Court or any court pronouncing on it, but I feel strongly that his removal or indeed the removal of any governor including that of Ekiti on the grounds of the state of emergency is unconstitutional and it is wrong.'
Citing Section 1 (2) of the constitution, the Deputy Senate President argued that the only way one can become governor or President in Nigeria is through the provisions of the constitution 'and there is no part of the constitution that says that if there is state of emergency, you remove the governor and appoint a sole administrator.'
'So if you remove a governor without impeachment, death or resignation, it's unconstitutional; if you put somebody to administer a state without an election or a deputy governor inheriting governorship, it's unconstitutional. So, whatever they did in Plateau, or Ekiti, as far as I am concerned has nothing to do with us in Nigeria; it is unconstitutional.'
He cited Section 305, which provides among other things that 'a state of emergency is adopted when there is actual breakdown of public order and public safety in the federation or any part thereof requiring external measures to avert such danger.'
'That the governor of a State may, with the resolution supported by two-thirds majority of the House of Assembly request the President to declare a state of emergency in the state when there is in existence in the state any of the situation…'
'Which governor will invite the President to declare a state of emergency in his state so that he will loose his job? So, that is not the intention of this constitution; but people look at state of emergency in any state as a process of removing the governor.'