Wande Coal: Label Responds To Nude Photo Drama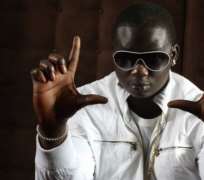 San Francisco, July 16, (THEWILL) – Nude photos showing Nigerian Mo Hits recording artiste, Wande Ojosipe popularly known as Wande Coal hit the internet yesterday (Thursday) causing the artiste and label some degree of embarrassment.
The photo showing Wande Coal sleeping naked in bed has however generated comments on social networking sites like Twitter and Facebook amongst others.
But in a swift reaction, Mo Hits today emailed THEWILL a statement titled, "SOMEBODY IS AFTER WANDE COAL-MOHITS."
The statement reads: "It has come to our notice that a purported nude picture of Wande Coal is being circulated on social networking site, Twiiter and that made him a trending topic yesterday and early hours of today.
"Wande is very grateful to those who have shown him love and as well to those who were constructive in their criticisms. He is saying a massive THANK YOU.
"We also want to state categorically that there is nothing wrong or to be ashamed about being naked BUT THE PICTURES IN QUESTION ARE NOT THOSE OF WANDE COAL, the multiple Hip Hop World Award winner. That is not him and that can never be him.
"It is worthy of note to let you know that the rising star has been a target of orchestrated attacks in past months. Few months ago false reports of him being treated in a psychiatric home were widely circulated even when he was busy performing in shows in Nigeria and around the world. Later, another report of him slapping a fellow in a club was initiated by some faceless people as well, a report which was false in its entirety. Last year it was also reported that he slapped 9ice during an argument, a report 9ice himself denied. Now, it is a false naked picture that is being used.
"We have reason to believe that the person behind these nude pictures is the same person(s) behind earlier negative and false stories. Therefore, we are no longer taking the matter lightly. Appropriate security agencies have been briefed and investigations are on-going so as to ascertain true identity of the culprit and bring him or her to book.
"Wande would also like to appeal to his numerous fans to keep calm and assure them that he won't stop making good music, love them and keep right in all his doings."
Coal was signed by Mo Hits in 2006 with his first album titled Mushin To Mo' Hits.