JP MORGAN PROFITS JUMP IN SECOND QUARTER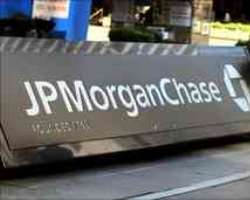 JP Morgan's shares fell despite the rise in headline profits
JP Morgan experienced strong growth in profits in the second quarter, thanks largely to falling loan losses.
The US bank booked net income of $4.8bn (£3.1bn), up from $2.7bn in the same period last year, a rise of more than 75%.
The bulk of the $2.1bn improvement came courtesy of a $1.5bn reduction in the amount of money the bank has set aside for possible loan losses.
JP Morgan's share price fell 1.5% in early trading, in spite of the profits.
Bank stocks were hit by poor economic news from the US.
The Manhattan-based bank also said it incurred a charge of $550m for the quarter, to cover the UK's new 50% bonus tax.
JP MORGAN CHASE & CO.
Last Updated at 15 Jul 2010, 18:57 GMT
*Chart shows local time
price change %
40.41 +
+0.06 +
+0.14
More data on this share price
Windfall
The reduction in the money reserved for potential loan losses is effectively a windfall gain to profits. This reduction, or release, could be the first of many, analysts say.
"The thing you have to remember is that total reserves are still some $36bn, so I think we could be looking at a series of 'one-off' releases," said Moshe Orenburg, financial stock analyst at Credit Suisse.
"We're talking about $10-20bn in total," he added, on the assumption that the economy continues its recovery.
He also points out that most of the reserve release in the last quarter related to the bank's credit card business rather than its home loan business, reflecting chief executive Jamie Dimon's self-professed nervousness about the housing market.
And Mr Orenbuch is upbeat about JP Morgan's ability to weather a possible second downturn in the housing market in the second half of the year.
Summary of second quarter results
Continue reading the main story
Total net income: $4.8bn
Change on a year earlier: +$2.1bn (76%)
Reduction in loan losses: $1.5bn
Cost of UK bonus tax: $550m
Investment bank net income: $1.4bn (-$90m)
Retail services net income: $1bn (+$1bn)
Credit cards net income: $30m (+$1bn)
Weak trading profits
JP Morgan's investment bank raked in $1.4bn, slightly down on 2009, as revenues fell 13%.
The weak trading profits were not unexpected, according to Mr Orenbuch at Credit Suisse.
Last year, most of the US lender's profits were brought in by its the capital markets business in its investment banking unit, which includes trading in shares and bonds.
However, the second quarter proved more challenging, as markets fell heavily for the first time since the financial crisis on fears over European sovereign debt and a possible double-dip recession.
Now, thanks to a remarkable turnaround in credit losses, it is the Wall Street firm's retail services business, which does traditional deposit-taking and mortgage lending, that is taking the lead.
It swung into a $1bn profit during the quarter, up from about zero a year ago, and comparable with the kind of money made by JP Morgan's investment bank.
Continue reading the main story
'
Start Quote
These businesses did not meet expectations'
These businesses did not meet expectations'
Jamie Dimon
Chief executive, JP Morgan
The bank's credit card business also began turning a healthy profit, of $343m, versus a loss of nearly $700m a year ago – a $1bn turnaround.
Loan repayments
However, in both units underlying revenues actually fell slightly, indicative of JP Morgan scaling back its consumer lending business.
All of the improvement in profits instead came from the fact that, with the economy improving, the bank no longer needed to set so much of its revenues on one side to cover losses on bad loans.
JP Morgan reported that the rate at which it had to write down loans because of non-payments had fallen sharply.
On sub-prime loans – the riskiest home loans – this loss rate stood at 8.6%, down from 13.4% only three months earlier.
'Not satisfactory'
But despite this turnaround, the bank thinks that the two units still have some way to go.
"Although we are gratified to see consumer lending net charge-offs and delinquencies decline, they remain at extremely high levels," said JP Morgan's chief executive, Jamie Dimon.
"As a result, these businesses did not meet expectations nor generate satisfactory returns on capital for our shareholders," he added. "It is too early to say how much improvement we will see from here."
In total, the reduction in credit losses across the entire bank improved its bottom line by $6.3bn compared with a year ago.
That figure includes the $1.5bn gain from the bank's decision to reduce the amount of money it holds in provision against losses.
However, most of this $6.3bn gain from lower credit losses was offset by falling revenues and higher staff and administration costs, meaning profits actually only rose by $2.1bn.
Where and when
Many analysts questioned Mr Dimon about the likely impact of a raft of strict new banking regulations being introduced in the US.
The chief executive would however not be drawn on the subject on a conference call following the release of the quarterly report.
Mr Orenbuch at Credit Suisse says it is a question of both where and when the cost of the reform will come.
"We think it will hurt a lot more in retail [lending business] than in wholesale," he says, noting the strict new legislation affecting deposit insurance, overdraft protection and credit cards.
He reckons that ultimately around 10% of JP Morgan's projected 2012 income could be hit.
"But the timeframe is unknown," he adds. "We are certainly talking several years hence."