'I'm extremely emotional'---Tokunbo Latona,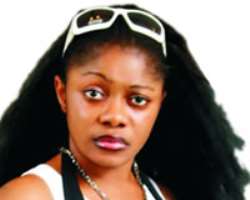 Tokunbo Latona, a graduate of Theatre Arts from University of Ibadan, in this interview with SEYI AKANBI talks about her career, upbringing and future aspiration. Excerpts:
HOW much can you consider acting nude?
I can't. I am an African lady and I hope to settle down some day with a man of my dream. I can't afford to let some roles I had played in the past haunt me later in life.
That means the only reason you cannot consider acting nude is because of marriage. What if you decide not to get married, can you opt for some millions of naira in exchange for exposing certain parts of your body?
The truth of the matter is that as a professional, you should not have any boundary. But as an African lady, who is brought up and nurtured in a cultured environment that detests shameful acts, I do set boundary for myself. I always tell myself that there so many things I must not do, not even for professionalism. One of my dreams is to have a blissful home and raise wonderful kids. So, I can never be fulfilled without having a family.
But the nature of your job offers some alibi to these moral values you are holding on to
That does not matter. The fact that people hide under the umbrella of career to indulge in promiscuity does not justify the vice. If you are doing a wrong thing, your conscience will tell you. So even if I decide to marry white guy, who would not care about my past escapades, what about God, my family and my unborn children who could see those clips in future? It is not worth it.
Are you now saying your career does not matter to you?
Not that I don't value my career, but I value my future more than my career. I value my future home more than my career. I have been in the industry for years, I know what is obtainable therein. But I'd prefer to have my career blossoming and my home flourishing.
What if your man asks you to quit acting, what will you do?
My guy is very understanding, he knows me and understands my passion for acting. He cannot ask me to quit what gives me joy.
Are you both in the industry?
God forbid! I can never date any artiste. Be it a producer, a director or a marketer, I cannot just dare it.
Why. Don't you think somebody in the industry will understand you better?
How would you expect me to date an artiste? I don't get involved in any relationship if marriage is not in view. And you too can see the number of marriages involving two artistes that crash on daily basis.
Since I don't pray to have a crashed marriage, I suppose I need not be told that there are measures I need to put in place so as to enjoy my marriage. Marrying an artiste will limit the scope of my family, we will be considering every matter from the same standpoint. We will be artistic about everything.
When we have issues, the media will be the one to help us sort our differences. Our children will be raised based on the industry's dictate, sincerely speaking, I don't pray for that kind of future.
Are you saying there is no how any marriage between two artistes could last?
That is not my point. My point is, most of them don't last and I will not like to experiment with mine.
Don't you think one of the reasons for the break up in these marriages is sexual escapades?
I can't say that categorically because I have not had one family before, but from every indication and according to what we hear and read, they are not certainly unconnected.
Are you saying this is the reason why most actresses now prefer marrying a white guy or a Nigerian based abroad?
Hmmnn, that is not true. I can marry anybody I love so far the person loves me. It doesn't matter if he is a white or black. The bottom line is that I love him and he loves me. Then, I can tell him my past and if he is comfortable with it, we can roll on. Even if I have messed up before, so far I don't hide from him, I tell him my past and he tells me his, I don't think those pasts will pose any danger to our future.
There is a belief that most actresses get roles through their feminine accessories, and you said you are created by God for the screen and that is why God endows you with some accessories...
No! No! Capital no. Please don't misconstrue my point. God has endowed me with some accessories that will help me make a headway in my career. In the movie industry, you need the training, the look and the carriage to be able to deliver your role convincingly. There are some I can get on my own, which is training. I am a trained actress. But I did not determine my frame and composition. That is why my strength has always been my training, beauty, voice and stature. I do not need to use any feminine accessory to get roles. I am not saying that people don't do it, I don't do it and will never do it. I have featured in over thirty movies; I can boldly say that I was called for these roles. There are others jobs I was called to but decided not to take up those roles. I am not desperate about getting roles because I know I possess every quality needed to excel in my career. If it takes sleeping with the producer to get roles, that means I would have slept with over thirty guys before I become who I am today. But how will these people respect me, how would I get paid? How will I get money to sustain myself?
But what about sexual harassment on location?
People keep on talking about sexual harassment on location, but the truth is that sexual harassment is everywhere. Doctors harass nurses sexually, teachers harass students sexually, even in the church, sexual harassment abounds. So, I have no problem with sexual harassment because it is everywhere.
I do expect it often. I always expect somebody wanting to harass me sexually, but I always handle each scenario with maturity.
Can you make reference to any particular scenario?
It is not a big deal, so I don't count it. I wouldn't like to start mention names and events. The most important point is how it is being handled. I always try to be polite and matured in handling it. I told someone, you are not the kind of person I will like to go out with while I told somebody else I am engaged and will not like to do anything to hurt my guy. Thank God I have not experienced any aggressive harassment.
What are the challenges you have faced in the industry?
Challenges are part of life. I don't like recounting my ordeals because I believe whosoever has a success story to tell will definitely have an ordeal to recount. The most important thing is that I have passed through both thick and thin sides of life. Every situation and circumstance of life always present itself with some peculiar challenges, but God has been seeing me through.
Among all roles you have played, which one is most challenging?
Every role is demanding. I have to read through the script, acquaint myself with the writer's intention and develop a unique mannerism that will distinguish my character from other roles I had played before. Some directors will like my mannerism while some will come up with another concept. I just have to adapt in order to bring out best from that job. I can remember a day Antar Laniyan almost frustrated me on set, he intimidated me in a good way. It was like the whole world turning against me, I did not know when tears were flowing through my cheeks. But at the end, the job was wonderful. It was later that we realised we are related.
That shows that you are very emotional
Yes o! I am extremely emotional. Sometimes, I can be irritatingly emotional. Anytime I see people suffering, especially children, I shed tears. I have been very emotional right from my childhood.
How was your growing up?
I grew up like every other kid, it was formerly rosy but later, my family had some problems. My mum and dad had to separate, so I was raised by my mum. I later lost my dad which made everything worse. It was not easy to be raised by a single parent. I suppose I owe my success story to my mum's support and encouragement.