AKALA WALKS OUT ON NWODO, OTHERS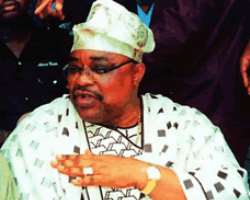 Gov. Akala
Peoples Democratic Party [PDP] National Working Committee's (NWC) trouble- shooting efforts in Oyo State suffered a setback yesterday as Governor Adebayo Alao-Akala stormed out of a meeting with the national leadership.
After a rigorous session which lasted for over three hours, the governor left the meeting in annoyance, while his aides and party faithful scampered after him.
A Daily Sun source revealed that the NWC summoned the governor to express its disaffection over the crisis in the state chapter of the party.
A 19- member committee set up by the immediate past National Chairman, Prince Vincent Ogbulafor on the recommendation of the General Ike Nwachukwu-led Reconciliation Committee report had constituted an all-inclusive implementation committee to serve as an interim executive of the party.
While the Nwachukwu committee had given five slots in the new arrangement to the former governor of the state, Senator Rashidi Ladoja, it also gave same number to Governor Alao-Akala, leaving nine slots to be shared among members of the opposition group, the Patriotic Elders Forum, which has former Special Duties Minister, Wole Oyelese, Alhaji Yekeen Adeojo and Senator Lekan Balogun as leading members.
The Nwachukwu committee equally recommended that the Alhaji Dejo Afolabi-led state executive of the party should be dissolved for the implementation committee to function. Alhaji Yunus Akintunde has since emerged as Chairman of the implementation committee. Daily Sun findings revealed that the the state government had not allowed the Akintude executive to function, as a case instituted to challenge the Nwachukwu report by the state government is before a High Court in the state. The NWC under Prince Ogbulafor was joined as a defendant.
A PDP source disclosed to Daily Sun that the NWC impressed it on Alao-Akala the need for fresh congress to put in place a new state executive of the party that would be acceptable to all the factions particularly the Wolu group, led by Senator, Ladoja and the Patriotic Elders Forum .
'The party leadership is worried that the crisis could cost the party victory in 2011 to the advantage of the Action Congress (AC) and has insisted on an inclusive executive. Nwodo's option didn't go down well with Alao-Akala and he stormed out of the meeting,' the source revealed. The National Chairman has restated his determination to restore internal democracy in the party and had been advocating separation of the PDP state executive from the stranglehold of the PDP governors.
On Alao-Akala's entourage were former Oyo governor, Chief Kolapo Ishola, the factional chairman, Chief Dejo Afolabi, among others.