Joint Commission Agreements For Review – FG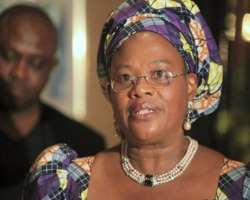 PHOTO: NIGERIA'S INFORMATION MINISTER, PROFESSOR DORA AKUNYILI.

ABUJA, July 07, (THEWILL) - The Federal Government's effort at developing a well planned national policy on Joint Commission Agreements and Negotiations, today ordered an all-inclusive review of such agreements.
Minister of Information and Communication, Prof. Dora Akunyili stated this today in Abuja on the outcome of the Federal Executive Council meeting adding that Nigeria has
concluded a total of 376 bilateral joint agreements in various sectors of the economy.
She said concerns have been raised about the unacceptable level of performance and the nation's inability to derive utmost benefit from such agreements, Memoranda of Understanding (MOU) and related instruments concluded under various framework.
She said that there was therefore the need for effective teamwork and participation of all stakeholders in the negotiation of all joint/bilateral commission agreements.
The Council resolved that the joint commission agreement should be reviewed periodically with a view to identifying dormant ones and approved a comprehensive review and possible re-negotiation of those identified as non-performing agreements.
Akunyili said that the establishment of an inter-ministerial committee under the leadership of the Ministry of Foreign Affairs, Odein Ajumogobia, has also been approved to develop a well articulated national policy on joint commissions and would be monitored by National Planning Commission.
She said following the FEC's approval, all relevant stakeholders and the private sector would now be able to effectively participate in the negotiation of all bilateral cooperation agreements before they are signed.
She also announced that the Council considered a memo presented by the Ministry of Power seeking approval for the award of contract for the construction of 2X60MVA, 132/33KV substation at Igangan and 132KV switching station at Igbo-Ora.
Similarly, the Council considered a memo on the award of contracts for the provision of project management consultancy service in respect of the 215MW Kaduna Power Plant Project and 10MW Katsina Wind Farm.
Another memo discussed was the one seeking approval for the award of contract for the procurement and distribution of 2,544 science kits for selected public junior secondary school (JSS) nationwide by the Universal Basic Education Commission (UBEC).