'There Is A New Nigeria Under Jonathan' – FCT Minister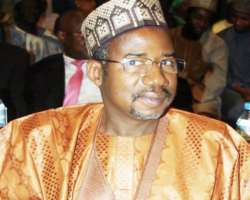 PHOTO: FCT MINISTER, SENATOR BALA ABDULKADIR MOHAMMED.

ABUJA, JULY 07, (THEWILL) - Nigeria under President Goodluck Jonathan has witnessed unprecedented progress both at national and international scene.
The FCT Minister, Senator Bala Abdulkadir Mohammed stated today while receiving the Managing Director/Chief Executive Officer of the New Nigerian Newspapers who paid him a courtesy call in his office in Abuja.
The Minister said that the image of the Nigeria at the international arena has improved tremedously thereby opening new window of opportunities for the country and her citizens.
He recalled the appointment of a credible umpire for the country's electoral process by President Jonathan as well as his invitation for the G-8 Submit recently, all pointers to the positive development.
Senator Mohammed called on the media to support the good efforts of the Federal Government in building a free and egalitarian society.
He expressed the commitment of the FCT Administration under him to partner with the members of the fourth estate of the realm; noting that he welcomes constructive criticisms which will serve as wake-up call.
He emphasized that his administration is hinged on due process, fairness and justice which informed the decision of the FCTA to recently recommend to the Federal Executive Council to approve the re-instatement of some revoked plots to the foreign missions in Abuja.
The Minister promised to restore the revoked plot of the New Nigeria Newspapers in the Central Business District if still available or will give a suitable replacement.
He seized the opportunity to appeal to media proprietors in the country to as a matter priority look into the welfare of their reporters on their respective beats.
The Minister remarked that reporters on beats face serious and daunting challenges on the job that should not only be recognized but be rewarded.
Speaking earlier, the Managing Director/Chief Executive Officer of the New Nigerian
Newspapers, (NNN) Tukur Abdulrahman invited the Minister to attend the New Nigerian Newspapers Forum to talk on the roadmap of his administration.
He appealed for the restoration of New Nigerian Newspapers plot of land in the Central Business District, Abuja and assured that the media organization is ready to pay all the outstanding ground rates as well as the charges for re-certification of the title document.