ARGENTINA'S DEFEAT A KICK IN THE FACE – MARADONA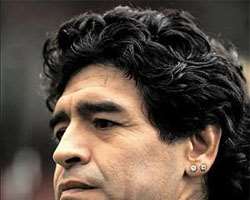 Diego Maradona
Diego Maradona's future as Argentina coach is unclear after the team's devastating 4-0 defeat to Germany in the World Cup quarterfinals on Saturday.
A third-minute goal by young Thomas Muller stunned Argentina and Joachim Leow's young guns obliterated the Argentines after the break with Miroslav Klose netting a brace and defender Arne Friedrich scoring his first for his country.
The defeat was Argentina's worst since the 4-0 hammering by Holland back in 1974 and head coach Maradona said that he felt a deep sadness following the game in Cape Town.
'The day I stopped playing football could be similar, but this sadness is really strong,' admitted the 49-year-old.
'It's tough because the idea was to go beyond this match and be among the four best teams and we didn't achieve that.
'We all had this hope and dream and we were just thinking about winning and the opposite happened.'
Maradona has been through a lifetime of highs and lows, but the 1986 winning captain admitted that Saturday's humiliation was the hardest thing he had ever faced.
'I lived through this in 1982 as a player. I was a boy and didn't realise the importance of things.
'Today (Saturday), I'm nearly 50, I'm mature and this is the toughest moment in my life. It is really like a kick in the face. I have no more energy for nothing,' he said.