I ALWAYS KNEW I'D NEVER WORK WITH MY CERTIFICATE – BOLA AWOSIKA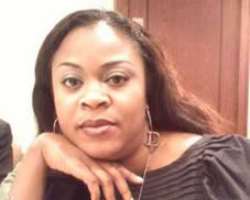 Bola
Ms. Bola Awosika, the CEO of Laviva hair extension and B-Event Total Solution, an event and marketing company. Indeed, she is an interviewers delight. From afar, you'll have this impression she's a snobbish and arrogant lady but reverse is the case.
That early morning at her VI residence, she was giving instructions to her staff on how best to pack the goods (hairpieces) she just brought into the country. Also, you'll notice she's down earth but firm during the interaction with her. Speaking with Sunday Sun recently, she opened up about her business lifestyle and other issues.
What did you study in school?
I graduated from University of Lagos with a BSc Honours degree in industrial chemistry. I have never worked with my certificate because from when I was in the university I had always been an entrepreneur. I had my first shop in year one. So I've also done my own thing. Apart from industrial attachment, which I did at Nigeria Textile Mills while in the university, and youth service with the Ministry of Health, where I was attached to the protocol department of the minister, I have never held paid employment.
So are you saying that right from school you knew you would not work with your certificate?
That is not the issue; even at the time I decided to study industrial chemistry, it was my choice. That was what I put in JAMB. It was not a matter of 'oh, just do one course. As at then, I had always wanted to go into my own business, own my factory, and my own production company. So my going into industrial chemistry is to know how to set up a factory, how to mix chemicals and products together and all that was the plan. I went into it at the time to know so that when I want to set up my own factory nobody would bamboozle me. Basically industrial chemistry is a mixture of chemical engineering and chemistry.
How would you describe yourself?
Bola Awosika is a goal-driven person and achiever; she's somebody that owes no prisoner, meaning I don't care what you think about me. My motto in life has always been if I'm in front of God today and I have to account of myself to him, the question would be, have I done a good job or not? You cannot satisfy the world and you find that great people are always spoken about. I don't let what people say hold me back, you compliment me or you don't compliment, it me makes no difference to me as long as I'm comfortable in my own thing and comfortable with what I'm doing. I'm fine. I'm an extrovert because I work hard and I give myself deadlines. So sometimes I'm stressed out so I go out to unwind.
Sometimes you see me I'm partying for the next two months you see me in every party, in the next six months you may not see me which is where I'm right now. I've stopped social functions except when I'm very close to the people involved. Now, I have a lot of things that I'm planning. I'm just someone that is very focused, because I have a lot of clients also. In Nigeria if somebody is your client and they invite you somewhere and you don't go they get upset with you, and then you lose customers, they think you are proud. Sometimes you have to go.
Growing up days
My growing up days was fun. Right from age-7, I always told my mum that I want to be like Chief Mrs. Kuforiji Olubi. You know there was a time she was the chairman of many companies and managing director of a bank.
I wanted to emulate her and my mother would look at me and smile, but I remembered she always told me to read harder if I want to be like her. Fortunately too, she was in the same society with my mum and every time I saw her in church, I saw myself becoming an MD of a company someday. I attended University of Lagos.
Life on campus then was fun; we were the happening girls at Unilag. I always tell people that passing through university education should be a must because it tends to tilt and build you up for the future.
On campus, we sponsored 'Miss Unilag' and other shows in school and our candidates must win because we will furnish her all she needs to look charming. Going to parties was also fun but I made sure I didn't miss my classes. From the party I make sure I go to the class straight, especially whenever I have 7 or 8 am lectures. Remember, I had a goal to become another Kuforiji Olubi.
I don't say I'm tired, I need to sleep and forget my lectures. But in year three I discovered that there was more to life than partying, then I became more serious with my academics.
Journey into business
Laviva Hair started out as my passion for good quality hair. I remember in my university days we used to buy some hair from America and when I came back from America people would always say they liked the hair pieces I brought and I used to sell to them. About four years ago, when I went to have my baby in America I noticed a lace wig on somebody, which I liked but when I asked for the price it was about US$3000 or 4000 then.
I was like this is not easily affordable. About three years ago, I realized it was getting a bit cheaper. I contacted a supplier that was making it for a company in America and that was how I started selling the lace wigs in Nigeria.
When I started this business, a lot of people wondered why anybody would spend US$500 or 600 to buy a hairpiece. As we can see now people prefer quality to quantity. Now, we have people requesting not only for lace wigs but we have gone into the human hair. With human hair you have different textures and it depends on where the hair is from. We have the Brazilian, Indian, Malaysian and the Peruvian and all of them are human hair, which basically you can use for three, four years or even more. So when you calculate it at the end of the day, you'll know it's economical to invest in human hair than the synthetic stuff.
My events planning business
It started out as a zeal for me, I like to have things done properly. I remember about 10 years ago a friend had a party and everything was not well organized and I got up and I was trying to put things together. Besides, any time I go to parties, I find it difficult to sit down because I love things to be done and arranged properly, especially when it comes to parties. My friends used to tell me that I was wasting my talent; they suggested that I should go into event planning.
I was not ready to do the wedding thing because in the first place, planning and organizing a wedding is a bit more stressful. I do more of events involving parastatals and corporate bodies. That was how I started the event business and it has been a tremendous one.
Recently a soft-sell publication carried a front page story titled, 'Lagos Big Girl Bola Awosika in 3.5 million rice scandal.' What really is the truth?
There was no iota of truth in it. The Bola Awosika referred to in the story was another Bola Awosika and we are not related in any way. The experience was awful – weeks after the publication came out, as my phone did not stop ringing. I received calls intermittently from Nigeria and abroad on this issue. It is good to be nice, my friends all kept saying no, it can't be our own Bola. They were really angry about the mix up.
Are you married?
I'm not married, but I have a child.
Can you marry someone you are richer than?
I come from a very strong pedigree and money has never been an issue. To me, there is more to life than money. Let me be realistic, money make a lot of things happen, makes a lot of things go round, but if a man is God fearing, you have your dream and I have my dream, we can come together.
You can be poor today and be a millionaire tomorrow. It is what have you got upstairs to sell. I can marry a man that I'm richer than but I can assure you in the next three or four years he will definitely be richer than me. Some men don't have the opportunity to meet people or do the right kind of business. But by the time I combine my own connection with his own dreams, the sky is only the limit for us.
Challenges
In my business now, let's look at Laviva hair extension for example. When I started this business I could say there were only three people that were there before that time. Now you find that there are so many people doing hair. In any business, competition is good, there should be positive competition, meaning you have good quality stuff., last year was very funny. We had so many people selling hair and they were selling a lot of rubbish. The good thing is that this year has been different.
The Nigerian woman, like I have told you, wants quality over quantity. If any person can say I sell human hair, what is the quality? Now, you see that people are ready to deal with no names in the business, unlike before when people will just go anywhere and buy hair. We are in partnership with a factory so we go through a lot of processes and in any production; there is always the problem ones.
You might produce 10 things and you find out that two are deficient, in one way or the other. Because we have a factory, we collect those defective pieces back from our client and replace them, which a lot of people cannot afford to do. We at Laviva Hair collect back from the client if they say the hair is shedding or is tangling. We collect back and exchange for the customer. In my personal life, people have a particular impression that they call you a big girl. That is why I easily always tell people I'm not a big girl. A big girl to me is somebody that is not working, that doesn't have anything up there. I'm an enterprising young woman, so I prefer to be called that than to be described as a Lagos big girl. Sometimes, my friends will tease me and call me Lagos big girl; I tell them I'm not a Lagos big girl o, I work.
The typical Lagos big girl is jobless, I'm sorry to say. I like to be compared with people that are doing something, I am working very hard.
I've always realized that you will always have people that will support you and those will be your fans and you will always have people that will not support you. Life is too short, why live by what somebody thinks of you as long as you know that you are God-fearing, being God-fearing guards you in lots of things, as far as you are God-fearing and your conscience is clear, life will always have challenges, ups and downs, if there is no trial you will not come up because for every trial you are going to move up; the more trials you have in your life the more God is moving you ahead.
A few years back, I couldn't just understand what was going on in my life but God was shaping me for where He is taking me. If at that point in time I had given up, because I closed my shop in Abuja but I said, I'm not even doing any shop business again.
That was why for three or five years I didn't have a shop, it was one-on-one business I was doing. At some point in time God made a way for me to have things. What I will always tell anybody is hold on to your dream.
It may be late or slow, you may start wondering if God has forgotten you but when it's going to come it's going to come in a big package.