Pogba: No Contract Offer From Manchester United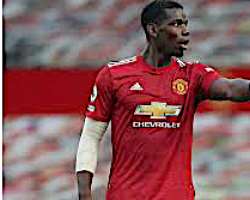 Paul Pogba has expressed his love for Manchester United, but he has also sensationally claimed that the club is yet to offer him a new contract.
Pogba's current deal expires in 2021 and he has recently voiced out his dream of playing for Real Madrid.
He told RMC: "I think especially of the ball and my recovery. I wasn't told anything, I didn't talk about renewal or whatever. For the moment I am in Manchester and I am especially thinking of getting back to the best of my form.
"I think the club will come and talk to me at some point to offer me something, or not.
"Every football player dreams of playing for Real Madrid, why not for me one day, but once again I am in Manchester, I love my club and I want to do everything to bring it back to where it should be."
Pogba and Manchester United have been criticised this season after the club lost two of their three Premier League games at home including a 6-1 drubbing against Tottenham.