POLICE NAB 3 OVER 50 SACKS OF CANNABIS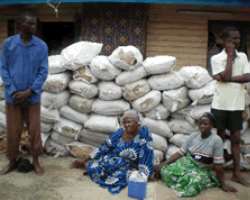 Suspects, sacks of Cannabis
Three persons arrested in the Mushin, Lagos, for alleged posessio of about 50 sacks of cannabis, have denied ownership of the hard drug.
But one of them, an Archeologist, Ibrahim Solomon, confessed being a drug addict. He claimed to have come to the scene where he was arrested to buy another type of hard drug, cocaine.
He told Daily Sun that after buying cocaine and sniffing it, he was about leaving the spot, when the police raided the area and arrested him.
He said: 'I only went there to sniff cocaine. I am not the owner of the sacks of Indian hemp. I only sniff cocaine.'
'I started sniffing cocaine long time ago. My parents sent me to Italy, where I studied Archeology. I speak Italian fluently. I got married to a white lady, who had two children for me but I was sent back to Nigeria when I started taking drug.' He said when he came back to Nigeria, he married another woman who also deserted him because of drug addiction.
'You know that Akala is a hard drugs area. You can get any type of drug in this place. I inherited two-storey buildings from my father but I use the monthly rent to sniff drug.' He advised those who want to go into drugs not to do so, as according him, 'once you go into drugs, there is no going back.'
A female suspect, who simply identified herself as Salako said: 'I am only a petty trader in the same house where the cannabis were stored. The owners of the weeds have run away. I am not the owner.' Another suspect, Babatunde, said he was arrested in his younger brother's house in Akala. 'I was having accommodation problem, so, I relocated to Akala Street where my younger brother lives.
I was resting when I heard a bang on the door and when I opened it, police arrested me. I don't know the owner of the weeds.' The state Police Command spokesman, Mr. Frank Mba, said the suspects and the weeds would be handed over to the National Drug Laws and Enforcement Agency (NDLEA) for necessary action.