Pique Reacts To Barcelona Loss Against Bayern Munich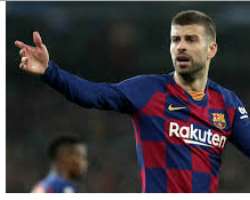 Barcelona suffered an embarrassing 8-2 defeat to Bayern Munich to crash out of the Uefa Champions League.
The Blaugrana were totally outclassed and embarrassed by the Bavarians, who underlined their superiority in a ruthless fashion.
Gerard Pique has called for "big changes" at the club after the dismal outing against Bayern.
"We have hit rock bottom," said Pique.
"This is not the first, nor the second, nor the third time. We are not on the right path."
He continued: "Coaches and players follow one another, but it has been several years since we have been able to be competitive on a European level.
"We all have to think internally and decide what is best for the club, for Barca. Tonight was unacceptable for Barcelona.
"It's very hard to take but I hope it will be useful for something, for us to all think about it.
"The club needs changes. And I'm not talking at the level of the coach or the players, but structurally the club needs changes of all kinds.
"We must bring in new blood to change this dynamic, and if necessary, I would be the first to leave."