3 Nigerian gymnasts get scholarship to US-based gymnastics camp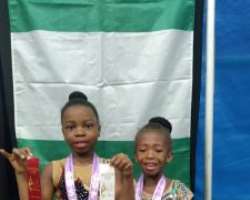 Three gymnasts from Tony International Gymnastics (TIG) club Abuja, have received scholarship from Boston Rhythmic Gymnastics School in the U.S, to participate in its online camp in August.
They are 8-year-old Sefiya Msheila, Nethan Ahube, 7, and Folake Olanubi, 7.
Anthony Asuquo, coach and founder of TIG disclosed this to the News Agency of Nigeria (NAN) on Wednesday in Abuja.
Asuquo, whose club has been undergoing weekly online sessions since the halt in sporting activities due to the Coronavirus pandemic, said their activities got the attention of the U.S school.
He said the three gymnasts were selected based on their performances at the online sessions.
"Usually, it costs about 250 dollars to participate in Boston's training and our gymnasts have been given the opportunity. This was due to their performance so far at our online sessions.
"This is one of the opportunities we have been looking for so that we can train our athletes alongside other teams in the world before they get to the elite level.
"Usually in Nigeria, we camp athletes who come top at a national event ahead of a major global championship, but there is really no developmental process for these athletes before they are camped.
"So, this training will help the TIG gymnasts move from one system to the other, understand the code of points and be at a certain level before they can compete at the elite stage.
"Our athletes will also learn from very good coaches which is a huge plus to us,'' Asuquo said.
Asuquo, who is also Nigeria's first world certified gymnastics coach, said his club had collaborated with the Boston counterpart to engage gymnasts from various parts of the world in an online session.
"I was one of 15 international instructors invited by Boston Rhythmic. I taught Nigerian dance for the `Community Workout', an initiative sponsored by Boston Rhythmic, offering free daily workouts for participating kids from over 20 countries.
"It is a way of introducing our cultural heritage to the athletes and they loved it.
"We had an Olympian from Canada, a yoga teacher from Singapore, a Russian acro-dance instructor, contortionist from Ukraine and many other international celebrities who participated in the community initiative which was from April to May,'' he said.
The coach thanked Boston gymnastics school for giving his athletes "opportunity to learn from the best''.
Meanwhile, 11 gymnasts from TIG were expected to participate in the Boston Cup International, a rhythmic gymnastics competition earlier scheduled for April 2020 but was postponed due to the coronavirus pandemic.
The team had presented two gymnasts in the 2019 edition of the competition and won two silver medals. (NAN)