GERMAN CHANCELLOR ANGELA MERKEL FACES ELECTORAL TEST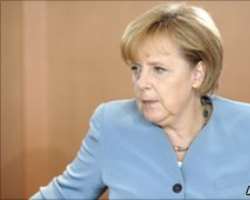 German Chancellor Angela Merkel faces a tough test of her government's popularity on Wednesday with the election of a new president.
The role is largely ceremonial but the election is being seen as a verdict on her raft of austerity measures.
Her candidate, Christian Wolff, faces a strong challenge from former East German rights activist Joachim Gauck.
The German president is chosen by an electoral college in a secret ballot of 1,244 representatives.
Eurozone crisis
The president has little power and the role is largely symbolic.
But the BBC's Steve Rosenberg in Berlin says a win for Mr Gauck would be considered a major blow to Mrs Merkel.
She is under increasing pressure over her government's package of austerity measures and because of infighting in the cabinet, our correspondent says.
Her candidate is Lower Saxony state governor Christian Wulff, deputy leader of her Christian Democratic party.
He remains the favourite to win as Mrs Merkel's ruling coalition enjoys a majority in the electoral college.
But Mr Gauck is a strong challenger – a non-partisan human rights campaigner who did much to expose the crimes of the East German secret police, the Stasi.
Our correspondent says Mr Gauck is both popular and widely respected – with even some members of Chancellor Merkel's own coalition saying they might vote for him.
Since coming to power last October, the coalition has had to tackle the eurozone debt crisis.
This has led to rescue packages for European partners that have been deeply unpopular in Germany.
The presidential election was called after Horst Koehler stepped down on 31 May.
He was said to be uncomfortable over criticism of an interview he gave on the role of the German military.