NETHERLANDS MOVES INTO QUARTER FINALS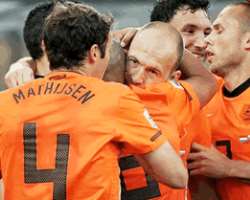 Arjen Robben led the way for the Netherlands as they beat Slovakia 2-1 in Durban on Monday to book a quarter-final
Slovakia's fine run to the knockout stages of the World Cup was abruptly ended by the Netherlands, who once again didn't seem to hit her top gear en route to a 2-1 victory. The Dutch always seem to hold the match in her hands, particularly after grabbing the initiative, thanks to a trademark strike from Arjen Robben.
Bert van Marwijk's Oranje maintained her steady if unspectacular level for much of the remainder of the match, though the Repre enjoyed some threatening moments in the second half. In the dying stages of the match, Wesley Sneijder pounced on a glaring goalkeeping error to put the Dutch into the quarter-finals, though a late Robert Vittek penalty would take some of the shine from the result.
Long range shots from either side were very much the order of the day in the opening few minutes. Slovakia made her presence felt with strong efforts from Vladimir Weiss and Marek Hamsik but it was the Netherlands who ultimately took a hold on the match, despite the initial exchanges being finely balanced.
Wesley Sneijder was heavily involved for the Dutch, as has been his custom in the competition to date. His first contribution was a shot from distance that went over the top, and that was matched by Dirk Kuyt soon afterwards, though the Liverpool's man dragged his ambitious strike from range wide.
There could be little doubt that the Oranje was beginning to get into her stride, even if some of her passing were a little sloppy at times. Better opportunities started to be created by Bert van Marwijk's side, but Robin van Persie wasted a good headed chance from just outside the six yard box and Sneijder finished tamely after being rolled in by the Arsenal's forward. It was Robben, making his first start of the World Cup after injury, who broke the deadlock. Sneijder was the architect, launching a fine long pass for the Bayern Munich's winger to scamper down the left. As he has done so many times this season, the Dutchman gathered possession 30 yards from goal, advanced to the corner of the box, cut inside and slid a low left-footed shot into the corner of the net.
Prior to the break the Netherlands seemed to ease their effort somewhat, simply content to keep their opponents at an arm's length. Van Persie tried to inject some life into the Dutch attack after the Oranje had withstood several Slovakian set-plays but the striker's somewhat mundane right-footed shot from 25 yards was comfortably fielded by Jan Mucha.
A couple of minutes before the half-time interval, Van Persie slid a firm shot by the near post after good work by Mark van Bommel getting down the right.