WIMBLEDON 2010: ANDY MURRAY TO FACE QUERREY IN LAST 16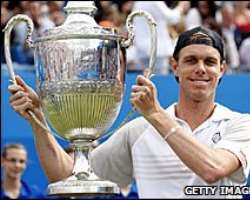 Querrey won the Aegon Championships at Queen's
By Piers Newbery
Andy Murray will take on big-serving Sam Querrey at Wimbledon on Monday as the big names begin to go head-to-head in search of quarter-final places.
The second Monday has a tantalising order of play as the fourth round is completed for both men and women.
Murray and Querrey are third on Centre Court at around 1700 BST, after Serena Williams plays Maria Sharapova.
Roger Federer and Rafael Nadal are also in action on day seven, while Justine Henin takes on Kim Clijsters.
Federer will play Austrian 16th seed Jurgen Melzer in the opening match on Centre Court at 1300 BST, and Nadal is up against Frenchman Paul-Henri Mathieu in the third match on Court One.
"It's funny because I've practised with him and chat with him every day in the locker rooms, but he's one of the guys I've never faced," Federer said of playing Melzer.
"I'll definitely be in for a tough match. He's improved again. He's making a move, a push in his ranking. My job is to try to stop that a little bit."
Nadal has already played two five-set matches and struggled with a knee problem in his third-round win over Philipp Petzschner, telling BBC Sport afterwards: "I am a little bit scared about the knee."
Those fears appeared to subside a little after a light practice session on Sunday.
"The knee is so much better," said Toni Nadal, Rafael's uncle and coach.
"I hope and think he can play with no problem. We are nervous about the opponent, but not the knee, at the moment."
Andy Roddick will meet Taiwan's Yen-Hsun Lu in the third match out on Court Two but arguably the tie of the round in the men's draw takes place on Court One, where third seed Novak Djokovic and 2002 champion Lleyton Hewitt are scheduled for the second match.
"He's a quality opponent," said Hewitt. "It's another step up. If I go out there the way that I've been playing and hitting the ball, I can give him a run for his money."
Murray, meanwhile, has won all three of his previous matches against Querrey in straight sets but the 6ft 6in American has improved dramatically this year, rising to his current career-high ranking of 21 after winning three titles this year, including Queen's Club two weeks ago.
"It will be a tough match," said Murray. "He's a very good player. He's got a big serve, bigger than the guys that I've played so far, and a slightly more unpredictable game. The rallies will probably be a little bit shorter.
"But I've played well against him in the past, he's someone I've had good success against."
There are two potentially titanic clashes in the women's draw as defending champion Serena Williams plays the 2004 champion Sharapova in the second match on Centre Court, while Henin and Clijsters square up on Court One at 1300 BST.
The Belgians will meet for the 25th time having won 12 apiece but it is the first time they have played each other at Wimbledon since 2006 after both had spells in retirement.

Sharapova beat Serena in the 2004 final to win her first Grand Slam
Henin won that semi-final four years ago but Cliijsters has edged both their meetings this year in final set tie-breaks.
"We've had some really tough matches so far this year and some really good and fun matches," said Clijsters. "We've brought out the best in each other."
And Henin paid tribute to her compatriot, saying: "Kim is very powerful but she's moving very well, and she has big weapons in her game. She's a real fighter also, the attitude is unbelievable.
"I just try to use different things. I have to move forward.
"I have to be very aggressive if I want to have a chance. I know what I'll have to do."
Five-time champion Venus Williams is a strong favourite to progress against Australia's Jarmila Groth in the opening match on Court Two at 1200 BST, while third seed Caroline Wozniacki takes on Petra Kvitova in the following match.