Nobody Demanded Money From Obasi To Be Picked - Ben Alaiya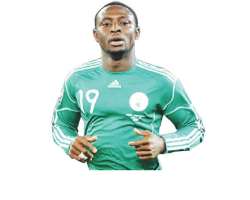 The media officer of the Super Eagles prior to the 2014 World Cup, Ben Alaiya, has squashed the claims of former Eagles striker, Chinedu Obasi, that he was asked to pay bribe to make the squad to the 2014 World Cup in Brazil.
Obasi, who had earlier alleged some undisclosed officials in the then Super Eagles said he refused paying the bribe because he didn't feel comfortable doing it having paid his dues as a Nigerian player and was thus excluded from the World Cup squad.
Alaiya, being the spokesperson of the Super Eagles at that time however asked Obasi to mention the names of those who demanded money from him to make the squad while reacting to Obasi's claims.
"Let's drop this foolery. Obasi was dropped because he had a knee injury. I was the (Eagles) media officer then. Let him name those who demanded bribe from an injured player. My name is Ben Alaiya and I hate cheap blackmail,"Alaiya stated on a WhatsApp platform NSM.
He added, "Apart from the Big Boss (then coach of the Eagles Stephen Keshi), all of us are alive to answer him. Even (Joseph) Yobo as captain was almost dropped because of the same knee issue."
"That's why I asked him (Obasi) to name names, the Big Boss Keshi I know will never do that. He always told the players that he was richer than any of them and none could bribe him with gift or money."
"Repeat, Yobo was almost dropped for both the 2013 Africa Cup of Nations and Brazil 2014 (World Cup) for injury reasons. Ask him (Yobo), at least he's now an assistant coach with the same team"
"I was never the coach but the Keshi I knew picked his team under the supervision of the NFF."
Controversies have trailed the claims of both Obasi and Alaiya, with some saying that Obasi not mentioning names doesn't change anything while Alaiya, not being in the coaching crew back then is not in position to debunk Obasi's claims.
Meanwhile, the assistant to the late Stephen Keshi at that time, Daniel Amokachi has also condemned the allegations made by Obasi, asking him to mention the people involved but it's uncertain if the former Schalke 04 forward would do that.