Table Tennis: Omotayo Relishes Victory Over Quadri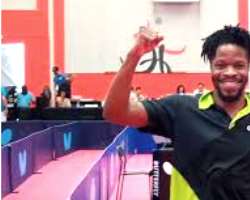 Nigerian Table tennis sensation, Olajide Omotayo, has revealed that his compatriot and Africa's number one table tennis player, Aruna Quadri has helped him become one of the best ping pong players in Africa.
Omotayo also added that he still relishes the moment he defeated Quadri at the 2019 African Games in Rabat, Morocco. This was disclosed by Omotayo on Eko FM's The Breakfast Show.
"I can actually say it is the biggest victory in my career and having to win the African Games, which is the biggest title in Africa, is really a big one because it has really bolstered my self confidence and I'm proud of myself."
"The victory also means a lot because I acquired a lot of points. Before the tournament, I was ranked 108 in the world and immediately after the tournament I went into the top 100. So, winning the African Games really helped a lot in terms of games won and points."
The 24-year old Omotayo who plies his trade in Italy, however heaped praises on Quadri saying he's been instrumental to his success.
"I have a good relationship with Aruna Quadri and he taught me how to fish and even gave me the fish to eat."
"He paved the way by telling me things that I needed to do . He told me I needed to invest in myself and that I shouldn't wait for the Nigerian government to send me to tournaments. He said I must attend tournaments and invest in myself and I took his advice."
"Most importantly, he always tells me that I can be the best that I can be if I put in the hard work, and thank God for where I am today."
Omotayo is currently ranked 92 in the world.