Ronaldinho Is My Best Ever Teammate - Okocha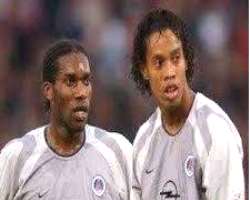 Former Super Eagles captain, Austin Jay Jay Okocha has described Brazilian legend, Ronaldinho as his best ever teammate.
Ronaldinho and Okocha were teammates at PSG in the 2001/2002 season and both of them were involved in a combine 35 goals for the Parisien club.
Okocha left PSG for Bolton while Ronaldinho made a big move to Barcelona where he became a cult hero winning numerous trophies individual honours.
Okocha said Ronaldinho was his best ever teammate because they have same style of play.
"The best teammate that I ever played with is Ronaldinho because when you are playing with someone that is a bit similar to you, you don't need to communicate to understand each other.
The former Bolton midfielder said in an interview with Eurosport
"Just looking at each other, you know what to do, and for me my best opponent was myself because I always put myself under pressure to do well, to be the best in wherever I am.
"I always believe that I am the only person that can stop myself, and because I also believed that I had a special talent."