HOW HEAVY RAINS RAVAGE LAGOS ROADS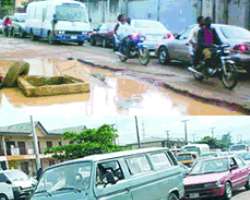 They stand out like sour thumbs on every road, waiting to claim unwary victims. In the last few months, gridlocks on major roads crisscrossing the Lagos metropolis have been a major problem for most Lagos residents, causing them untold pain and anger. Since the nation's economic capital and financial hub has been experiencing a near-daily downpour in the past weeks, traffic snarls on major roads have worsened.
The coming of the rainy season has further exposed the parlous state of roads in the state, with Lagosians having a rough time getting to their destinations because of the traffic crises. In Lagos, rainy days unleash harrowing experiences on motorists. For them, it's as if the rains and potholes have conspired against them.
Every year, especially before the rainy season commences, remedial works are done by the state and federal governments on major roads. But such efforts have not in any way addressed the situation as the problem resurfaces as soon as the construction works are over. Unfortunately, it is always the same spots that develop deep and deadly potholes.
Clement Okonkwo, a driver in Lagos, decried the increasing number of potholes along the Murtala Mohammed International Road, lamenting that the tyres of his vehicles have been destroyed on several occasions. He noted that it is not possible to avoid deep potholes close to the pedestrian bridge by Ajao-Estate gate along the airport road, noting that they have formed vicious rings on that spot.
'I don't understand what is happening in this state,' he regretted. 'Everywhere you go, you see potholes. I have stopped driving in the night to avoid killing myself. The way potholes appear on this road is alarming.'
The absence of gutters on both sides of the road causes large pools of water to eat into the road and increase the number and sizes of the potholes.
'The other day that it rained, our bus ran into a ditch and could not move again. We were forced to come down and assist the driver to push it out,' a commuter lamented.
Such unsavoury experiences have become a daily affair in Lagos. Yet when Governor Babatunde Raji Fashola assumed office in May 2007, he assured Lagosians that in his drive to transform Lagos into a megacity, the problem of bad roads in the state would be tackled headlong.
Even though he has gone a long way in addressing this problem, the state is still shuddering under the yoke of bad roads. According to many residents, most of the major roads in the state, either newly constructed or refurbished, have failed considerably.
The rains, Kunle, a resident of Bariga noted, have shown the lapses in infrastructural development in Lagos State. Bariga, he stressed, has had its own ugly share of bad roads, potholes and flood in recent times.
'The rainy season has cast serious doubts on how professional the infrastructural rehabilitation in the state has been. It shows that the state government has either not got it right or that it still has a long way to go,' he said.
Presently, deteriorating road infrastructure in the state has become embarrassing. In Lagos, many communities are at the brink of being cut off completely from other parts of the state. The situation has also become distressing for motorists as they don't get optimal use from their vehicles.
In the opinion of many, the constant flooding of several roads and widening of potholes in the state has exposed the engineering incompetence that has become the bane of the country. The poor drainage system does not only engender flooding of roads but also sets the tune for erosion, according to residents.
'In the past few weeks, I have had to replace my tyres, shock absorber and shaft because of bad roads. How much do I earn to foot such bills everytime,' asked an exasperated motorist.
A place like the Oshodi-Apapa Expressway which connects the Murtala Muhammed International Airport with two of the nation's busiest seaports has also failed at several significant locations. This has made commuting on the stretch after a downpour a nightmare. Places like Berger, Coconut, Berliet and Iyana Itire Bus-stops are littered with potholes and the roads are usually dangerous to navigate.
Residents of Jakande Estate, along the Cele-Ejigbo Road are not finding the parlous state of their roads funny. In their words, the government has turned a blind eye to their plea for motorable roads.
'We don't know what we have done to the state government. This estate is meant to be a model for other estates springing up but we have been suffering. Most of us have not moved our cars out of this estate in the last one month because of bad roads. Fashola should please come to our aid,' appealed Baba Funsho, a resident.
As it is on this major road, so it is on other roads within the metropolis. Indeed, the large potholes on almost all Lagos roads defy the expertise of those who believe they have mastered their locations. A constant visit to the mechanic is the price they are forced to pay for navigating the dangerous ditches which are usually disguised by flood.
It has become practically impossible to avoid all of them, as quite often one preventive manoeuvre often leads into yet another pothole. There have been accidents and in some cases loss of lives and goods resulting from a miscalculated attempt to avoid a ditch.
Residents of Kirikiri, Apapa, and those who ply their businesses in the area sure know what it feels like to move around surrounded by bad roads and container terminals.
For weeks now, it has become practically impossible for those working and residing in the area to commute. The nightmarish experience they are subjected to because of the total collapse of Dillion Street, the major artery into the area, is beyond imagination. Stories of how a less-than-two-minutes drive to the Oshodi-Apapa Expressway has metamorphosed into a four-hour traumatic ordeal are no longer news in this axis. Also, people in the area, who must ply Dillion Street, have lost count of how many times they have had to sleep in their vehicles or in mosquito infested offices because of gridlocks on the road.
The Old-Ojo Road by Mile 2 is another example of a completely failed road. The mouth of the bridge has been narrowed to one lane by a widening crater.
According to a public analyst, most of the roads in a state of total disrepair fall under the jurisdiction of the local and federal governments.
He noted that they have relegated their primary responsibility to the background and prefer to champion materially motivated activities to enrich themselves.
'What you discover is that the state government is saddled with so much work. If you investigate properly, you would discover that many of the bad roads fall under local government care. The third tier of government is no longer playing the complimentary role it was set up for. The federal government has also failed the people woefully,' he stated.
Apart from fixing potholes and constructing new roads that would further help to decongest major roads, the culture of prompt response to maintenance calls and use of solid materials should become the focus of all tiers of government, according to construction experts.
Good roads, widely seen as one basic component of good governance, has deluded Lagos State for long, many residents allege.
'At this stage of the Lagos megacity dream, we had hoped that Lagos would be experiencing a new lease of life. We are not saying that the state government has not tried. They have done well but it is either that they have not been monitoring on-going projects or they have conspired to give Lagosians shoddy infrastructure,' they stated.