EBEANO AND THE HURDLES BEFORE CHIME'S SECOND TERM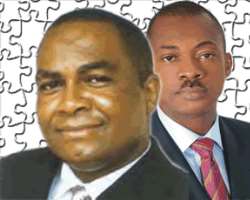 Nnamani & •Chime
Will Ebeano, ex-governor Chimaroke Nnamani political group pose any problem to his successor's second term in office? The above poser cannot safely be answered with a categorical yes, or a blunt no. A lot of factors must be considered in order to proffer a safe answer to the seeming knotty poser. For instance, the stoic long silence of the Ebeano dynasty helmsman, Senator Chimaroke Nnamani cannot be properly situated when assessing Governor Sullivan Chime's chances to scale the tortuous huddles of the 2011 governorship election in Enugu State.
The hallowed Igbo proverb that 'you cannot tell the mind of a silent person,' is very apt in the present context. Unlike Senator Jim Nwobodo, who confronted Senator Nnamani head-on, openly using all the political missiles in his arsenal to unseat him or at least make Enugu ungovernable for him when they fell apart, Nnamani has chosen to apply the rule of silence tactics.
The psychological power of silence can be upsetting and jittering. The marveric ex-governor is a political bull-dog, who would not mind using all sorts of strategies to vanquish his political opponent. Even his opponents agree that he has kept his political structures alive and active in various words. In this regard, he is said to be oiling his political machine at the ward levels better than Chime who has been adjudged even by his supporters as too stingy and formal when it comes to doling out patronages.
Chime's close associate, pleading anonymity, said: 'Chime is a wise fox, a lawyer and cannot afford to fall into his enemies' trap. I agree that he is most frugal in dealing with public fund. For instance, one area he has saved fund to the detriment of some groups in the state, was in using public fund to retain the services of political thugs.
There is no doubt that the days of this class of politics are numbered. They have since dispersed to find some means of earning a living in an honest way. Some of them have taken to the highway to engage in armed robbery or kidnappings'
This is another factor that can affect Chime adversely. According to feelers from these thugs, they have grudges against Chime, who they accused of abandoning them after they helped him in his period of trivails. It is feared that these disgruntled elements who are very hungry will pitch their tent with Nnamani in 2011. Havoc thugs can disrupt an election or to rob an actual winner his chances is not in contention.
This factor in itself, poses serious threat to Chime's second tenure bid.
But of a more serious threat is the issue of arbitrary elongation of the tenure of political office holders in the state by Chime. This act has not only attracted the ire of party stakeholders but insulted the collective psyche of almost all constituents in the wards, who have to make sacrifices.
Political analysts are of the opinion that Chime had to retain most serving officers during the last December local government polls. It is being rumoured that he will do the same thing in the House of Assembly and National Assembly elections, even if returning the legislators en-masse will mean that some of them will be serving for third tenure. Some of the state legislators have performed so poorly that the electorate will not take kindly to a decision to return them when in fact, they have capable replacements, no matter the political party they may belong.
'It will be absurd to ask those who started with Nnamani in 1999 to continue in 2011. I don't think Chime is contemplating on doing such. We are tired of them. They have benefited enough from the national cake and should give way for others.
However, the case of the incumbent National Assembly legislators, may be different ball-game as some of them are said to be nursing ambition to unseat Chime. It is seriously being rumoured that the Deputy Senate President, Ike Ekweremmadu, is seriously warming up for the coveted Lion Building job. In this case, he is said to be paving the way for a successor whom he will use his connections to fix. The position of Senator Ayogu Eze appears to be nebulous as he appears to be craftier than others. Senator Eze no doubt, is one of the beneficiaries of Ebeano dynasty political largesse.
At a time it was rumoured that he was clandestinely hob-nobbng with his political mentor Nnamani, an allegation which nearly severed beyond repairs his relationship with Chime. Someone suggested that his wife is using her NGO to assist in boosting his profile, having invested much in bettering the lot of physically-challenged. It is believed that should Nsukka people throw a joker, as was the case in 1991, when they sank their political differences to rally round Nwodo in order for their own to occupy the Lion Building, Ayogu may be considered a primus inter pares among his colleagues in the zone.
Fidel Ayogu's defection
Political analysis have given interpretation to Ambassador Fidel Ayogu's recent dumping of the All Nigeria Peoples Party (ANPP) for the Peoples Democratic Party (PDP), a party he was its standardbearer in the 2007 gubernatorial election. According to a calculation, the ambassador who was the first to withdraw his suit against Chime at the election tribunal had a deal with Chime which is to be unfolded peace-meal. The first phase is to be made an ambassador. The second is for him to decamp and the third is to succeed Chime in 2015.
The opposition
The popular saying that opposition has fizzled out in Enugu State naturally was belied last December when the PPA gave the PDP a serious battle in Igbo-Eze South in the L.G. polls. The result of that election has remained a nightmare and a sad reminder that there is a long way to go in the journey to true democracy. Was any election held? Can Okey Ezea a diehard opposition leader alone, battle Chime successfully? Can a tree make a forest? What can Ezea do alone?
PPA- Ebeano Alliance
Concerned citizens are asking if the touted alliance of the two parties in the state is true and real. Recently, a provincial periodical in one of its editions quoted a former Secretary to the State Government (SSG) in Chimaroke's administration. Dr. Dan Shere of denying the alliance of Ebeano with PPA. It is obvious that no single party can rattle Chime in 2011, let alone unseat him. History of merger plans by political parties in the State had shown an abyssimal lack of sincerity on the part of the leadership of the merging parties . Jim Nwobodo's Oganiru failed during his confrontation with Chimaroke. To this extent, opposition may not be any threat to Chime in 2011 even as it is being rumoured that Dr. Orji Uzor Kalu, former governor of Abia and PPA leader, is interested in taking Enugn State over. Dr. Kalu is never an Igbo son whose wishes can be dismissed with a brash wave of the hand. He is Ndigbo personified and a political realist who marches his words with action.
Ides of March
Another obstacle Chime should be wary of, is the consequence of the death of former President Yar'Adua on his political opportunities. While Yar'Adua lived, Chime had enjoyed enormous political protection from the Presidency, a situation which was made possible through his marriage. Another blow that Chime's political fortune has suffered is the death of his political foster-father, the indomitable and inimitable Wawa oracle, Chief C.C. Onoh, Okaa Omee of Ngwo. The ex-governor of the old Anambra State was one man who when he is carrying you on his back, your leg will not touch the ground. Added to this is the removal of ex-PDP chair, Prince Ogbulafor whose protection Chime had also enjoyed.
However, luck seems to be on the side of Chime. Only recently, kingpin of the Ebeano family, one of its prime pillars in the person of Ray Nnaji dumped the faction to embrace Dr. Chime's leadership. Nnaji, was hitherto contesting the legality of Vita Abbah as the legitimate chairman of PDP in the state. A provincial periodical had quoted Nnaji as accusing the Ebeano family leadership of dictatorship, saying that Prince Sam Ejiefor was running the affairs of the Ebeano dynasty as his estate.
Much as Chime is girding his loins against the opposition, he should work hard to ensure his party gives him ticket in 2011 which is the sine qua non for the contest. He may be popular with the people because of his populist inclination, he should address the unresolved issue of obeying court verdict on the payment of disengaged workers entitlement for eight years. Being a lawyer, Chime should not do anything that portrays him as flouting court order. He should also look into complaints of his party stakeholders who are complaining that the pomp of power has in recent time made him to take arbitrary decisions on matters needing dialogue with the party stake-holders.