Klopp Explains Secret To Liverpool Success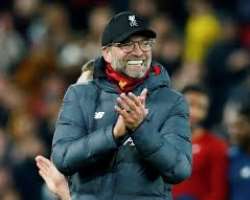 Liverpool coach Jurgen Klopp has revealed the secret behind his team's form in the premier league this season.
After missing out on the league title by a point last season, Liverpool are eight points clear in November.
They have been tipped by many football followers and pundits to end their premier league trophy drought.
In an interview with The Athletic, Klopp revealed the key to his success at Anfield has been making his players feel needed, and "treating them all the same".
"There's a lot of responsibility for the boys themselves. A person who doesn't want to feel needed, I cannot help," Klopp said.
"If you play in the first XI and it's 'Yeah!' or if you don't play and it's 'oh, you can all fuck off' then you cannot exist in this kind of environment, it's not possible.
"Yes, I get that it feels different if you haven't played but you must always be ready for the moment when you come on and stuff like this.
"How do I keep them motivated? I treat them all the same, 100 percent. You score four goals or no goals, for me, you are the same person. When we talk about football it's easier for me to speak with the guy who scored four goals, but on a personal level they're all the same for me.
"I like them all a lot — that's why they are all here. It's not that anyone has forced me to get around with these guys. They are all wonderful, different but wonderful. I like being around them. Hopefully, they know that and they feel that.
Liverpool will hope to continue their impressive form and build on a vital win against Manchester City when they take on Crystal Palace on Saturday.