THE REALISTIC CASE FOR ELECTORAL REFORM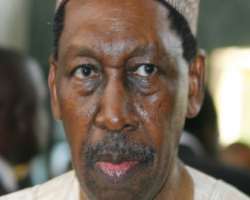 PHOTO: RETIRED JUSTICE MOHAMMED UWAIS WAS CHAIRMAN OF THE 12-MEMBER ELECTORAL REFORM PANEL.

The Constitution of the Federal Republic of Nigerian recognizes that we are created equal, endowed by our Creator with certain inalienable rights and that among these rights are life, liberty and the right to dignity of human person among others. As a people we can be trusted to know what is good for us. It is pertinent to also note that with rights come responsibilities.
Representative government can be effective if its citizenry can hold it accountable for its actions and by their obligation to participate in the fundamental processes of democracy, such as developing an understanding of how democratic government functions, going to the polls to vote and by being attentive to the public issues that have an impact on our national life.
Voting is fundamental in a democracy - this is how citizens directly get involve with their system of government by electing office holders and leaders into offices. Nigerians should not be complacent about voting because the act of voting at elections is an endorsement of the principles, policies, and institutions that are created to advance freedom, political equality, educational and economic opportunity for all Nigerians. Elections also provide an opportunity for citizens to register their criticism of how government principles and policies are being implemented.
The history of elections in Nigeria for the past 86 years or more has been an upstream battle to design and implement. Except for the June 12, 2003 election which was adjudged the most credible election in our nation's history, legal and structural changes to facilitate free and fair elections is set against government stolidity.
The 2007 elections showed what is wrong with our elections. The elections were marred by controversy, intimidation, irregularities, and allegations of fraud. Evidence of electoral law violations and other problems were many. Some called it the worst election in our troubled political history.
The need for electoral reform in Nigeria's democratic system is widely recognized. But electoral reform can be enacted only by a National Assembly made up of parties and individuals whose political life may be threatened by that reform. Political suicide has never been popular -- certainly not in Nigeria.
Electoral reform is a broad term that covers, among other things, improving the responsiveness of electoral processes to public desires and expectations. However, not all electoral change is electoral reform. Electoral
Change can only be referred to as reforms if its primary goal is to improve electoral processes, for example through fostering enhanced impartiality, inclusiveness, transparency, integrity, or accuracy.
Previous efforts at electoral reform went nowhere because of vested interest. Electoral reform should lead to an electoral system that will offer the voters a choice of candidates and parties rather than just a choice of party lists in elections.
Many Nigerians praised the Justice Uwais Electoral Reforms Committee because its recommendations could transform our electoral system. The committee recommended policies and procedures that will strengthen our electoral laws and the integrity of future elections.
Some commentators have said that the appointment of Professor Attahiru Jega as the new chairman of the Independent National Electoral Commission (INEC) by President Jonathan instead of the National Judicial Council as recommended by Uwais Committee is a blow to the proposed reform. Suffice it state that Jega's appointment will not affect the seminal recommendation of the committee's report.
In order for the electoral system to avoid more disasters, the key recommendations of the Uwais committee must be adopted by the president and the national assembly.
Some of these key recommendations of the Uwais report include the following; empowering the national assembly the power to remove the INEC chairman and board from office. This will effectively act as a check and balance on the power of the president.
The committee also recommended that the number of election tribunals be increased to facilitate the speedy determination of cases as justice delayed is justice denied. The committee also addresses the issue of the determination of election petition. This in my opinion is the most important recommendation of the report. It is a known fact that with less than a year to the next election there are still election cases pending. A total time frame of six months was recommended for both trials and appeals.
The Justice Uwais Committee's report must be the foundation on which the proposed reform should stand on. Anything less is not real reform. Anything less means that the system could implode again.
Felix Ayanruoh Esq. is at [email protected]
Disclaimer:

"The views/contents expressed in this article are the sole responsibility of the author(s) and do not necessarily reflect those of The Nigerian Voice. The Nigerian Voice will not be responsible or liable for any inaccurate or incorrect statements contained in this article."
Articles by thewillnigeria.com