Bournemouth 1 – 0 Tottenham Hotspur: Red cards ultimately doom Spurs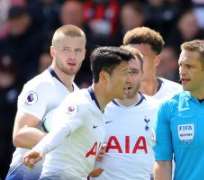 Two red cards, plenty of bookings and an abysmal performance all around led to a 1-0 defeat to Bournemouth for Tottenham Hotspur at the Vitality Stadium in Matchweek 37.
First Half
Both Spurs and Bournemouth started with similar game plans by high pressing the opposition and leaving the pitch open to a counterattack. The first chance for Spurs came on a chance from midfield when Lucas received the ball after a turnover and caught 19-year-old Mark Travers well off his line. What looked like an audacious attempt turned out to be closer than expected, but the shot ultimately was too wide.
Lucas certainly wasn't done with his first half. In the 20th minute, Spurs worked from the back and Moussa Sissoko put a great pass in to the Brazilian forward. He had a clear shot at the net from about 15 yards out, but he put it right at Travers who parried it over the crossbar to end the threat.
The two sides traded possession without much of an opportunity other than a Sonny rip from the left side in the 30th minute. Bournemouth were happy to sit back, press when needed and try to break free on the counter but couldn't get any shots off against Spurs' defense. In the 33rd minute, Spurs had their best opportunity thus far as Danny Rose crossed the ball into the penalty area for Dele who had a free header, but put it right at Travers who made the save.
Nervy times set in for Spurs as yellow cards were spread around the first half between Toby Alderweireld, Moussa Sissoko and Eric Dier, the latter of which scared us all with a tackle from the side that could have ended up as a second yellow card. Of all the people to get sent off, it was Son Heung-Min in the 44th minute after he committed a foul and shoved a Bournemouth player to the ground in front of referee Craig Pawson. Replay showed that Jefferson Lerma had stomped on him and that's what set him off. The half came to an end shortly after the sending off.
Second Half
Mauricio Pochettino made two subs at the half, bringing off Eric Dier and Toby Alderweireld. Victor Wanyama and Juan Foyth stepped into the match due to their bookings….and Foyth spent all of two minutes on the pitch before getting sent off for a horror tackle. Spurs were down to nine men with almost the entire second half to get through.
Forced to play a 4-3-1 formation with the sendings off, Spurs packed it in and defended for their lives, forcing Bournemouth into bad passes and turnovers. While Spurs did try to hold possession when they could, they were tempting fate in the process by still playing a bit high and trying to deal with the Cherries pressure. By the 60' mark, it was still 0-0 as Spurs tried desperately to keep the home side out of the net.Bournemouth continued to push and keep the ball, finally getting cracks in the Spurs formation. Hugo ensured that every single save or goal kick took as long as possible to milk the clock and give Spurs a chance to catch their breath. The 80th minute showed the best chance for the Cherries on a headed effort but Hugo was in perfect position to snuff out the shot.
Pochettino played his final sub in the 82nd minute, bringing on Ben Davies for Moussa Sissoko to go as defensive as possible for the final ten minutes of the match. Davies moved into the LCB role and Wanyama slid back into the defensive midfield as Spurs maintained the 4-3-1. Spurs weathered another chance and pushed forward as Lucas got free a couple of times and earned a corner and few throw-ins to kill off more of the clock.
Another flurry was survived in the 89th minute by Spurs after a corner attempt by the Cherries. The ball bounced around on the edge of the six yard box but somehow was cleared out with no damage done going into stoppage time.
Ultimately, Spurs couldn't hang on for the final few minutes. In the 91st minute Cherries earned another corner and came good on their chance. Nathan Ake came free in the box and buried a header into the net to give Cherries all three points as Spurs could not muster any kind of attack in the dying embers of the match that included a near scrum involving several players on both side.
Thoughts on the Match
On a day where Spurs needed to win to lock up Champions League, they end up with two red cards and spend 40+ minutes down to nine. I never could have imagined a match like this.
Craig Pawson lost control of this match early on. I'm not going to argue against the red cards because they were warranted (though the first one was embellished to hell), but Pawson made it clear he was only going to call the obvious and let far too much crap go on. When that happens, you end up with a match like this.
Jefferson Lerna not getting booked for any kind of infraction, including his diving and stomp, until the 94th minute is absolutely ridiculous.
Sonny and Foyth will now miss the Everton match and the first two matches of next season because of their infractions.
Spurs maintain 3rd place for now. Chelsea play Watford this weekend while Arsenal have Brighton at home and United are on the road to relegated Huddersfield Town.
No time to rest, of course. Spurs have to lick their wounds and make a trip across the channel for the second leg of the Champions League semi-final against Ajax. SB Nation