With defeat at Everton, Arsenal's dismal away form could cost them top-four place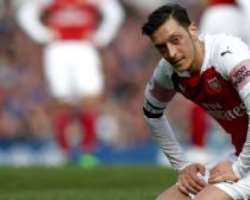 They are, but only on a plus-four goal differential over Chelsea, although if Everton had taken all their opportunities, that buffer might have been wiped out. If Arsenal were stodgy and second best before the break, they were constantly cut apart afterwards and would have been buried by more-clinical opponents.  Bernard ,  Gylfi Sigurdsson  and  Richarlison  were among those to miss presentable chances; there were plenty more openings squandered too and, despite the half-time introductions of  Aaron Ramsey  and  Pierre-Emerick Aubameyang , Arsenal offered next to nothing in response.
"We needed to take chances in the attacking third [in the second half] and defensively we lost," Emery said. That would have been fine if Arsenal had taken the game to Everton but, aside from a shot wide by  Henrikh Mkhitaryan and an opening in the 48th minute that Ramsey lifted over the bar, they showed no threat.
It did not help that, with  Granit Xhaka  and  Lucas Torreira  still absent and Ramsey's fitness being handled with care, Everton's midfield of  Andre Gomes and  Idrissa Gueye  looked so clearly a cut above.  Matteo Guendouzi  and  Mohamed Elneny  both struggled, the latter being hauled off at the interval, and the hosts controlled the centre of the park throughout"Everything we did since the first minute, the desire, the fantastic spirit … we deserved the three points," Marco Silva said. "We were the best team on the pitch."
Silva's side have now won three in a row, including a 2-0 victory against Chelsea here last month, and any question marks over his position seem to have disappeared for now. It will have been particularly disappointing for Emery that Everton simply looked sharper and hungrier, a fact for which no list of injury absences can really mitigate. Their wingers, Bernard and Richarlison, offered two examples midway through the second half when they tore back into their own last third to dispossess  Ainsley Maitland-Niles  and Ramsey respectively within seconds of each other.
Everton's tempo was relentless and Arsenal never got started. Perhaps Emery might reflect that giving the captaincy to  Mesut Ozil , whose only eye-catching contribution was to throw his jacket towards the Everton bench as tempers flared late on, was not the most obvious way of setting a brisk tone.
"After this result we can be negative because it's three points less, but it's in our hands to continue to take our chances to be in the top four," Emery said. He was right, but Arsenal need to discover some element of the resilience that has seen them win their last seven home games in all competitions. They have not always been fluent in those matches — and it is still hard, at times, to work out exactly what the style of this team is — but they have usually tended to find a way.
The best sides do that on their travels, too, but on this evidence Arsenal cannot be placed in that bracket just yet.