FIXED INCOME MARKET NETS OVER N349BN IN 2 WKS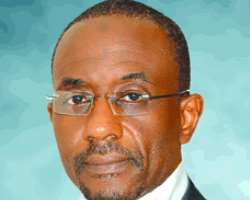 Sanusi, CBN Governor
As more attention is turned to the fixed income securities, a turnover of 308.9 million units worth N349.5billion was recorded in the fixed income market during the last two weeks.
According to Afrinvest in its fortnightly Fixed Income and Currency Markets Update, the most active bond , measured by turnover volume, was the 6th FGN Bond 2029 Series 5, with traded volumes of 50.9 million units valued at N51.3billion in 351 deals over the fortnight.
Giving the breakdown, the report states that in the first week, the market operated at its lowest level since the beginning of the year. This, it attributed to the illiquidity in the money market and the delay in the release of FAAC allocations, among other factors.
By the second week however, most yields trended downwards as a result of liquidity injection. These yields are expected to moderate further due to the liquidity in the Naira market.
Interest rates in the inter-bank market were very volatile over the fortnight. The market opened with a net credit balance of N114.9 billion and closed with N127.3billion. OBB (Open Buy Back) and overnight rates hovered between 6 per cent and 8 during the first week. However, FAAC allocations of N749.9billion hit the system after the FAAC meeting on Monday, May 24, leading to a crash in the interest rates. OBB and overnight rates subsequently closed at 1 per cent and 1.5 per cent at the end of the fortnight.
During the period, the value of the Naira at the Wholesale Dutch Auction System (WDAS) auctions fell from N148.81 per dollar from the previous fortnight to N148.93/US$1.00 at the end of the first week. This was once again fuelled by the inability of the Central Bank of Nigeria(CBN) to meet the demand, mainly from local fuel importers, telecommunication companies and other corporate institutions, in both weeks. It was however on a rebound by the end of the fortnight, closing at N148.78 per dollar. The Naira continued in its decline in the inter-bank market from N151.35 per dollar to N152.00 per dollar. Parallel rates stayed at N153.00 per dollar for most of the fortnight, despite reaching N154.00 per dollar early in the second week.
It is hoped that expected sales from oil companies in the market should meet some of the excess demand. However, analysts at Afrinvest believed that persistent and aggressive demand by corporate bodies may cause the Naira to depreciate further.