S-E-A-R-C-H-L-I-G-H-T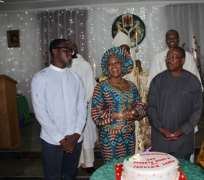 *Hmn...Wonders they say, shall never cease. It seems something intimate is happening or about to happen between star actress, Steph-Nora Falana and first Gulder Ultimate Search winner, Ezeugo. Or how else can Searchlight precisely perceive their 'kurukere' moves at a location on Saturday. While other acts were busy working on set, Steph and Ezeugo were glued to a laptop at one side of the location gisting. And the next thing Searchlight saw was that both of them shared the same plate of jollof rice and chicken served on location. In fact, they even shared the same spoon!
*Veteran actor, Pete Edochie is certainly one of the most consistent old faces in Nollywood and also a role model to many actors. But one thing his colleagues hate about him is the fact that he brooks no nonsense. Yes, some 'tatafos' in the industry hinted that Uncle Pete never succumbs to directors' orders on set, but will rather prefer to work at his own pace. The 'tatafos' further told Searchlight that the only director Pete obeys on set is his son, who has also directed a couple of movies.
*You folks should not be surprised when you see popular Yoruba clown, sorry actor, Ojo Pagogo, turn musician any moment from now. Searchlight gathered that Pagogo is currently studying the rudiments of music at the Polytechnic, Ibadan. Yes, he is in NDII right now. So, don't be surprised when he joins the bandwagon of cross-over kings soon.
*Never knew Emeka Ike is as good in counselling as in acting until recently when Searchlight met him at the National Theatre in Iganmu, Lagos. Emeka was seen counselling a young fan who had come to beg him for money after giving the boy a N500 note. He told the guy to go back to wherever he had come from, listen to elders' advice and take life seriously. Bros, that's a very nice one. Thumbs up for you.
*Can somebody advise upcoming actor, Emma Ehumadu, to slow down on the 'epheezy' life he's living? Those who saw him somewhere in Surulere last week bitterly complained about how he literally held motorists and passers-by to ransom. Tatafos' who saw him explained that apart from the 'kokolets' and loud music blaring from his car's stereo, he drove the car as if he was on a race track. 'Oga' Emma, 'sofry, sofry' o!
pmnews