Manchester United's stunning comeback likely saves Jose Mourinho's job … for now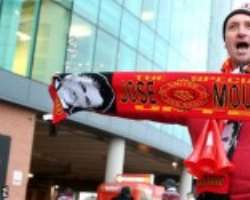 Around 24 hours after  reports  surfaced that Saturday's match against Newcastle would be Jose Mourinho's last at Manchester United, the man chiefly responsible for the club's worst-ever seven-game Premier League start demanded support.
Were he not an egotistical fraud, Mourinho might have been singularly focused on beating the division's second-worst team. Instead, he  reportedly  had the gall to make a "back-me-or-sack-me" plea.
And then, on a surreal Saturday evening at Old Trafford, with a stunning three-goal comeback, his players made the club's decision – to back Mourinho, or to sack him – more difficult than it should be.
Alexis Sanchez's 90th-minute winner might have temporarily saved Mourinho his job.
Alexis Sanchez's header for Manchester United beat Newcastle in the 90th minute. (Getty)
Had the halftime score – Newcastle 2, Man United 0 – held, that decision would have been easy. United set yet another embarrassing club record, conceding twice inside 10 minutes for the first time at home in the Prem. Mourinho humiliated one of his own players, subbing Eric Bailly off after 18 minutes. The 11 on the field after 45 were booed off at halftime. Visiting fans taunted Mourinho with "sacked in the morning" chants.
A spirited second-half response ensured those chants likely won't prove prophetic. A Juan Mata free kick pulled United back into the game. An Anthony Martial beauty leveled it. Sanchez's header won it. And Mourinho is alive.
How close is Man United to sacking Mourinho?
United, of course, spineless and incompetent as ever, had backed Mourinho Saturday morning,  dismissing reports of an impending sacking as "nonsense."  Had the beleaguered boss gone out and lost to Newcastle, surely the club executives would have had to eat their words – and a fat chunk of Mourinho's contract along with them.
In that sense, they, too, were spared by Sanchez's header. They, too, can evade criticism for another week.
And even if they were prepared to sack Mourinho regardless of Saturday's result, they likely can't rationalize doing so after such a rousing comeback.
But they are merely prolonging the inevitable. That United was two goals down to Newcastle at home in the first place is inexcusable. As we wrote after  a 3-1 defeat to West Ham :
Mourinho had to go two months ago, when he was already  moaning in Michigan ; when the  writing was on the wall . He had to go last month, after  losses to Brighton  and  Tottenham . He had to go four days ago after a cup loss to Derby; three days ago, when his supposed  quarrel with Paul Pogba reignited ; yesterday, with his general stench becoming more ineradicable by the hour; and now.
A narrow home win over the Premier League's 19th-place team doesn't change any that. It'll change the conversation for a week, and perhaps several. But United is going nowhere under the Portuguese manager. Mourinho still has to go.