Gossip: Misery at Manchester United, Batshuayi discusses Chelsea future, Man City, Spurs, Liverpool scout playmaker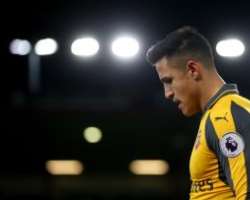 he weekend of football feels like a long time ago, doesn't it?
That is what you get when Cardiff v Burnley is the only 'Super Sunday' clash and golf takes centre stage in the world of sport.
But Saturday's action provided plenty of storylines: Jose Mourinho and Manchester United's demise continued, Daniel Sturridge rescued Liverpool with a thronker and Newcastle and Huddersfield remained winless.
Elsewhere, English teenager Jaden Sancho notched another assist for Borussia Dortmund and with the England squad named on Thursday, his name could crop up later in the week.
For now, it is time to feast your eyes on a gossip column jam-packed with misery for United fans. Anger at Alexis
Manchester United boss Jose Mourinho admits it was 'time to agree' with Alexis Sanchez critics
Not many Manchester United players have escaped the wrath of Jose Mourinho over the past two years and it was Alexis Sanchez's turn earlier this week.
According to the Evening Standard and The Times, Sanchez was blasted for a lack of effort and production by Mourinho last week.
And that did not take place in a private meeting either, with Sanchez lambasted in front of his team-mates – Juan Mata and Paul Pogba (surprise, surprise) were the other two picked on by the special one.
Talking of Pogba, which we do nearly every day, his response when asked for a chat by journalists was 'Do you want me dead?' He would have been better off staying quiet, you'd think.
Mourinho himself fears the sack, say The Sun, despite United claiming it is 'nonsense' that they have already contacted Zinedine Zidane.
There is plenty of other United chat, too: 12 players are out of contract at the end of the season and uncertain about their future because of Mourinho's situation, according to The Mirror, while Zidane could be named as Chief Executive of Juventus. Coming home
When Michy Batshuayi was sent out on loan to Valencia earlier this year, many thought it would signal the end of his time at Chelsea.
Antonio Conte clearly did not fancy the Belgian striker and Maurizio Sarri decided to back Alvaro Morata and Oliver Giroud as his main men going forward.
But Batshuayi – a likeable character – is determined to make his mark properly at Stamford Bridge.
"No [I'm not looking for a permanent move]. I've so much respect for Chelsea and I love them," he told The Times. "This loan is important for my development, to show how good I am so that I can go back to Chelsea a better player."
Elsewhere at Chelsea, The Telegraph report that Cesar Azpilicueta and Eden Hazard appear the frontrunners to be named club captain, after Sarri confirmed he'd name his captain for the season this week
And his 'relaxed' management style could convince Hazard to sign a new deal and should make N'Golo Kante extending his stay a formality, say Goal. Scouting mission
Sergej Milinkovic-Savic may only be 23, but he seems to have been talked about as a future Premier League player for an age now.
That is likely to continue  with The Mirror saying that Manchester City, Liverpool and Tottenham all had scouts watching him play for Lazio as they lost the Rome derby 3-1 to Roma.
Despite being heavily linked with Manchester United in the summer, Lazio believe they can tie the Serbian playmaker down to a new deal, even though his current one does not end until 2022.