Wasteful Chelsea secure victory in Europa League opener as Pedro suffers shoulder injury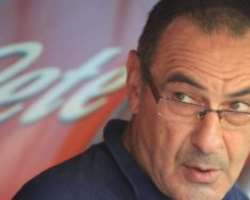 M aurizio Sarri is a self-confessed fiend for nicotine and, six games into his reign at Chelsea, he is chomping on cigars.
After a five-year absence from the Europa League, this felt like a big statement as Chelsea continued their flawless start to the season under their new head coach.
Willian's early goal was enough to secure a sixth consecutive victory and it was only Chelsea's wayward finishing which enabled PAOK Salonika to lose with a respectable scoreline.
Sarri cannot have possibly envisaged such a stress-free start to his tenure and some of the football Chelsea played here was exquisite, even without their main man Eden Hazard.
This was Chelsea's first experience of the Europa League since 2013, the year they defeated Benfica in the final with a vintage team including Frank Lampard, Ashley Cole and Fernando Torres. Chelsea played here like defending champions.
S arri had identified this trip to Thessaloniki as Chelsea's toughest assignment in the group stage but for much of the evening his players strolled around as if it were a training exercise.
PAOK's Toumba Stadium remains an incredibly hostile venue at full capacity for any opponent, with fireworks and flares shooting off into the Greek night sky before kick-off. What an unfortunate time for the home team to suffer stagefright in front of their fanatical supporters.
Not even Chelsea's early breakthrough could dampen the enthusiasm of the fans behind the goal.
The opener came after just seven minutes, with Willian placing the ball under Alexandros Paschalakis's body after he was sent clear by Ross Barkley. Willian was outstanding all evening, a shimmering menace in attack, and clearly thriving on being handed the captaincy for the night.
Chelsea were completely on top, attacking on the break with speed, and swarming all over their opponents. At one point late in the first-half, their possession rate was at 82%. And this was without Hazard, left at home in London after complaining of tiredness.
Alvaro Morata could have put the tie out of sight long before half-time, wasting at least three decent opportunities from close-range before Paschalakis frustrated Pedro with a fine save.
Willian's goal was enough to give Chelsea a winning start in the Europa League    CREDIT:  PA 
T he only concern for Sarri was whether Chelsea's failure to take their chances would prove crucial. Willian missed one more chance after another smooth break on the counter-attack, while Marcos Alonso should have done better after advancing into the area and seeing his shot deflected for a corner.
Sarri made two substitutions designed to defend their lead, introducing Cesc Fabregas – making his first appearance since the Community Shield – and Cesar Azpilicueta in the 65th minute.
Razvan Lucescu, the PAOK manager, made a change of his own by bringing on last season's leading scorer, Aleksandar Prijovic, the Serbia international.
But Chelsea were still the more dangerous team and Pedro nearly crowned an exquisite move from inside their own area, shooting towards the top corner to force another excellent save from Paschalakis.
It was not until the 81st minute that Chelsea's goalkeeper, Kepa Arrizabalaga, was forced into his first meaningful contribution, punching away a deep cross from the right. The Brazilian finally made a save five minutes from the end, catching a shot from substitute Diego Biseswar.
But there was to be no dramatic ending and, for Sarri, this introduction to life at Chelsea could not be going any more smoothly.