BANKOLE WON'T QUIT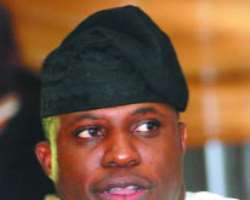 Bankole
The South West caucus in the House of Representatives at the weekend rallied support for the embattled Speaker of the House, Mr Dimeji Bankole, as the caucus met to review the ultimatum given him to resign within seven days or be disgraced out of office.
A group in the House called The Progressives last week issued a seven-day ultimatum to the Speaker to resign from office. Led by Mr Dino Melaye, the group threatened to release damning security reports on him if he failed to resign. The ultimatum expires tomorrow.
Spokesperson of the caucus, Mr Oluwole Oke, declared at the weekend that the Speaker had not committed any sins to warrant the call for his resignation.
According to him, the caucus passed a unanimous vote of confidence on the Speaker.
Leader of the caucus, Mr Ayoade Ademola Adeseun, of which Bankole is a member confirmed the meeting where the allegations raised against the Speaker by The Progressives were examined and found out that they were tissues of lies and blackmail. Oke, in a telephone conversation, said all the allegations raised by The Progressives against the Speaker are mere fabrications to cause disaffection when the House resumes next week.
'The South West caucus met and thoroughly diagnosed all the allegations raised against the Speaker by The Progressives and found out that there was no merit whatsoever in them, consequent upon which the South West caucus in the House passed vote of confidence on Speaker Bankole. 'The Speaker has committed no sin to warrant his resignation as being demanded by the Progressives. There is no way Bankole would resign, he has not committed any sin, he has acted well and we urge him to continue his good work in the larger interest of Nigeria,' Oke stated.
The representative of Ijesa North Federal Constituency of Osun State argued that there was no way somebody could satisfy all the 360 members of the House of Representatives, but maintained that the privilege to direct the affairs of the parliament resided with the leadership headed by the Speaker.
According to him, it was the resolve of the South West caucus that Speaker Bankole's leadership had deployed the privileges vested in him in the best interest of the nation and had not abused them as being alleged by The Progressives, which, he said, lacked the numerical strength to destabilize the House.