Why is Cristiano Ronaldo leaving Real Madrid? 7 details about his move to Juventus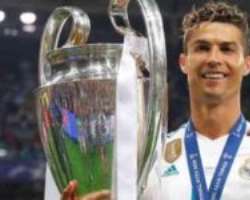 Over the past few days, reports surfaced that soccer star Cristiano Ronaldo was considering a move from Real Madrid to Juventus. After  9 years and 4 championship wins  with the Spanish soccer team Real Madrid Club de Fútbol, Ronaldo officially signed on to the Italy-based Juventus Football Club. On July 10, 2018, Ronaldo made the team transfer official when he  signed a $117 million contract  with Juventus.
What are the reasons why Ronaldo is leaving Real Madrid? Here's what's reportedly gone on behind the scenes during his successful career.
1. It all started with one simple comment.
"It has been great being at Madrid." This is the  past-tense comment Ronaldo made following Real Madrid's third UEFA Champions League win last May that started all the rumors about his potential upcoming move.
Though Ronaldo  apologized for the confusion shortly thereafter , the damage was already done, as fans' suspicions were already raised. 2. Ronaldo and Real Madrid President Florentino Perez are rumored to be at odds.
Ramon Calderon, Perez' predecessor as President of Real Madrid,  recently told Express that Ronaldo's relationship with Real Madrid's current President is the main driving force behind his rumored exit from his longtime team.
"[Frustrations] culminated when Ronaldo realized Florentino did not value him the way he should," Calderon told Express. "Ronaldo wanted a better salary, but that's only normal for the best employee in a company." 3. Ronaldo is getting along with Juventus President Andrea Agnelli.
Though Ronaldo's relationship with Perez is on the rocks, he seems to be getting along with Juventus President Andrea Agnelli just fine.  Spanish newspaper Marca reported  that Ronaldo and Agnelli have spoken over the phone at least 28 times and that these conversations made Ronaldo feel optimistic about his potential new manager.
"Ronaldo was impressed with the treatment and deference of the leader, and with the desire shown when recruiting him," wrote Marca's Jesús Sánchez. "He was captivated by the respect, as if Juventus were a humbler club."
Sky Sports also reported  early Tuesday that Agnelli met with Ronaldo at his hotel room, perhaps to work out some of the details surrounding Ronaldo's switch.
4. Ronaldo himself may be ready for a change.
According to ESPN FC's Gabriel Marcotti , Ronaldo feels he is more than ready to move to a new team.
"He's kind of had it with Florentino [Perez, Real Madrid's current President] and with Real Madrid, and he feels ready to go and embark on a new adventure and a new team elsewhere, whether it's Juventus [or] whether somebody else comes out of the woodwork,"  Marcotti stated . "The vibe is that it's not about money, it's about him wanting to move on, him maybe not feeling the love [from Real Madrid]."​ 5. Juventus almost made a deal with Ronaldo earlier in his career.
ESPN FC's Gabriel Marcotti  also reported that Ronaldo was almost courted by Juventus when he was first starting out in the sport of soccer. "He has an affinity for Juventus apparently going back to [when he] nearly joined them when he was 18. Obviously, he was quite struck by the fact that, after he scored that incredible goal against them in the Champions League last year, he got a standing ovation." 6. Salary appears to be an important factor.
With a salary of $60 million, Ronaldo is currently the second highest paid soccer player after Lionel Messi,  according to Forbes . This paycheck is a far cry from the average salary for players at Juventus,  which Statista estimates  at $6.31 million.
If Ronaldo asks Juventus to match Messi's $80 million salary,  Forbes concludes that total salary costs for Juventus would rise  from $200 million to $280 million. 7. Ronaldo isn't letting all the hype get to him.
In the midst of all the surrounding hype and confusion, Ronaldo appears to be perfectly relaxed and at ease. As  reported by TMZ , Ronaldo was recently spotted tanning on a beach in Greece. Sources told TMZ that 15 to 20 people, including family members, accompanied Ronaldo on this trip, and that the group stayed in a private villa.
Roman Chiarello is a writer and aspiring journalist who is committed to helping others. He currently attends Pace University and resides in New Jersey.