Amuneke, Drogba in FIFA panel to pick Player of the year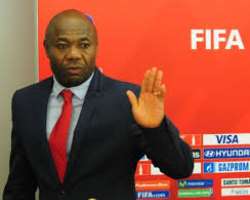 Nigeria's Ex-international Emmanuel Amuneke and Ivory Coast's Didier Drogba were named by FIFA today as members of one of the two panels to shortlist candidates for Men's Footballers and Coaches of the year for the 2017/18 season. Another panel will do the shortlist for Women's players and Coaches for the season.
Amuneke is 47 years old and former coach of the Sudanese club, Al Khartoum SC. As a winger, he represented Nigeria at the 1994 World Cup and played for great clubs, such as Barcelona, Sporting CP, Zamalek, Julius Berger and Concord.
The men's panel also include legends Ronaldo, Fabio Capello and Frank Lampard, while stars Mia Hamm, Sun Wen and Maia Jackman form part of the women's panel. The judges will shortlist ten candidates for each category, which will be unveiled on 23 July 2018 – with a public vote opening on the same day. Football fans, national team captains, head coaches and more than 200 media representatives will then cast their votes to decide who will be crowned the best players and coaches in the men's and women's games from last season.
With the 2018 FIFA World Cup Russia™ currently showcasing the finest footballing talent on the planet, the race for the Best FIFA Football Awards is even more intense and the showpiece event will take on added significance when it returns to London for a second time on 24 September 2018. At last year's awards, Cristiano Ronaldo picked up the Best Men's Player Award, the Netherlands' Lieke Martens was crowned Best Women's Player, French icon Zinédine Zidane was named Best Men's Coach and the Netherlands' Sarina Wiegman was Best Women's Coach. Separate panels will shortlist candidates for the Best FIFA Goalkeeper Award, the FIFA Puskás Award and the FIFA Fan Award, with the winner of the Best FIFA Goalkeeper Award chosen by a panel of FIFA Legends.
In recognition and celebration of the essential role played by football fans in the game, the FIFA Fan Award, an appreciation of memorable moments created by fans, is voted for by supporters. The FIFA Puskás Award, handed out to the player judged to have scored the best goal of the year, is also determined by fans' votes. The voting process for the men's and women's awards will open on 23 July and close on 10 August. FIFA will announce the final lists of the three nominees for each of the four categories listed above – as well as for the FIFA Puskás Award, the FIFA Fan Award and the Best FIFA Goalkeeper Award – in September.