The €100m man mountain Chelsea want to sign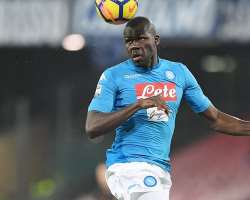 The Napoli defender is high on Maurizio Sarri's wanted list but his tremendous abilities at the back make him an asset his club do not want to lose
Since Neymar's €222 million transfer to Paris Saint-Germain last summer, the nine-figure barrier first broken by Gareth Bale's move to Real Madrid in 2013 has been shattered again and again. The Brazilian's move inflated the market so much that €100m deals seem somewhat passe these days.
One of the few milestones left to be breached is that of the €100m defender, but that could soon be a thing of the past as well if Chelsea are to get their way.
The Blues' incoming boss Maurizio Sarri knows Kalidou Koulibaly better than most having managed him at Napoli for the past three seasons, and the Senegalese has been such a runaway success for the Partenopei that Sarri wants to make him the statement signing of his first summer in charge.
On Sunday Koulibaly will get another chance to showcase what Chelsea see in him when he lines up for Senegal against Japan in their second World Cup group H fixture in Ekaterinburg. And should he help his nation to three points they will almost certainly find themselves reaching the knockout stage of the competition in a repeat of their maiden feat in 2002.
Koulibaly may well go on to become the stand-out star of this Senegal side, even taking into consideration the quality of Liverpool's Sadio Mane in the attacking half of the field. Such are his qualities, the 27-year-old is one of the outliers in the decades-long belief that a good attacker will always outshine a good defender.
Standing at 6'5" tall with the build to match he has been handed the moniker 'K2' in reference to the mountain in the Himalayas, but his game is not simply about his physicality and ability to dominate. His qualities on the ball have become an increasingly impressive part of his armoury, with his short bursts of speed beyond pressing opponents also helping to drive Napoli into attacking phases with ease.
His anticipation of danger is impressive too, while he has also become an ever more forceful presence in the opposing box from set pieces. His five goals in Serie A last term helped to push Napoli to the verge of only a third league title in their history, with his towering late header from Jose Callejon's corner against Juventus in Turin in April briefly giving the Campania people reason to dream of a first crown since the days of Diego Maradona.
Koulibaly was also voted into the 'Top 11' at the annual Oscar del Calcio gala last November, ranking him among the best team of the year in the Italian game. His excellence would also arguably deserve mention in any current world XI, and while he has yet to play under the day-to-day spotlight that life at the game's very biggest clubs involves he has already shown enough to suggest he has what it takes to succeed at the top of the sport.
Chelsea have had a bid turned down for Koulibaly previously, with Antonio Conte having led the charge for his signature in 2016. However, Napoli president Aurelio de Laurentiis explained that he was not for sale: "Chelsea came in and offered €50m for Koulibaly, but he's going away for the Africa Cup of Nations," he told reporters following the end of the summer market that year.
And a transfer to Chelsea won't automatically follow whatever Koulibaly's achievements with Senegal over the next few weeks, as Napoli's concerted challenge for the Serie A title has seen more than just the centre-back become the subject of market interest.
With Jorginho on the verge of a move to Manchester City and Lorenzo Insigne being among a host of other players catching the eye of suitors across the continent, the loss of Koulibaly might well be just too big a blow to contemplate for De Laurentiis and his new manager Carlo Ancelotti.
Add in the fact that fellow defender Raul Albiol has a release clause of just €6m which is likely to be triggered this summer and the retention of the Senegalese, who has no release clause of his own, becomes an even higher priority for the Neapolitans. "Koulibaly is unapproachable," reiterated De Laurentiis recently, and it feels like more than just a bargaining play by the movie mogul.
If one manager can play his cards right to drag Koulibaly away from Naples, though, it may well be Sarri. The defender's review in the autumn of his then-boss' qualities says it all about the esteem he holds Sarri in.
"He rediscovered me, he gave me confidence," Koulibaly told Il Messaggero. "He really is a genius, he sees things others don't see. He makes you understand how football is and isn't unpredictable. He's a scholar. Any question you ask him, he always has an answer, and it's always right. He helps you to think as a team and not as an individual.
"When he arrived he told me: 'Do as I say and you'll become an important player'. I'm trying, but I know I can still improve. In short, with Sarri football is maths."
Does a move to Chelsea add up? It certainly would for Sarri and the Blues, with €100m potentially turning into a bargain over time for a player of Koulibaly's ever-increasing qualities. But Napoli will take quite some persuading to part with one of the game's most sought-after talents.