This Iceland stat may be the most absurd in sports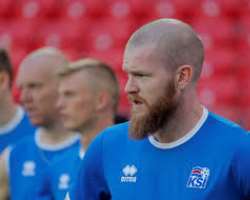 Canadian man related to 22 of 23 players on Iceland World Cup team
When the tiny island nation of Iceland qualified for its first-ever  World Cup , a Canadian man with Icelandic roots thought it would be fun to try and genealogically link himself to the team in the name of bragging rights. He wound up getting a lot more than he bargained for.
"It started off with the excitement when Iceland qualified for the World Cup. I thought it'd be a great opportunity to kind of brag about it a little bit with my colleagues," explained Len Isleifson, speaking to  CTV News in Canada .
"And when I informed my father I was doing this, he reached out to a company called Iceland roots and between the two of them they sourced out the relationships."
Iceland team pose prior to the 2018 FIFA World Cup Russia group D match between Nigeria and Iceland at Volgograd Arena on June 22, 2018 in Volgograd, Russia. (Getty Images)
It turns out that Isleifson and his father are related to 22 of the 23 players in Iceland's World Cup squad. Oh yes, and also the coach.
While that number may seem unfathomably high, when you take Iceland's size into account — it's the smallest nation to ever qualify for a World Cup — it's not entirely out of the ordinary. In fact, most people in Iceland are at least distantly related to one another. It's such a condensed gene pool that there's actually a  smartphone app  designed to help Icelanders avoid inadvertently hooking up with anyone closely related to them.
"It's the smallest country that's in the [tournament]," explains Isleifson. "Less than 350,000, so there's a little bit more opportunity to be related to more people."
But while people in Iceland are accustomed to being distantly, or not-so-distantly related, the unexpected novelty of being tied to the World Cup minnows has been a source of excitement for Isleifson.
The Manitoba resident, who is a member of the Legislative Assembly of Manitoba, is hoping he can parlay his family ties into a reunion of sorts with the Icelandic World Cup heroes who fought Argentina to a 1-1 draw in their opener before  losing 2-0 to Nigeria  in their second match.
"I'm actually doing some research right now and I've reached out to the Consul General," explained Isleifson. "I'm trying to create some connections in Iceland so one day, hopefully very soon, I'll be able to go over and meet some, if not all of the players. "
But Isleifson's newly discovered connection to the Icelandic national team could lead to some awkwardness when Canada joint hosts the World Cup with the United States and Mexico in 2026. Should Iceland continue its impressive run of punching above its weight to qualify for international tournaments, Isleifson might face a dilemma in terms of who to root for.
"It's Canada all the way and when Iceland's playing I'll be definitely cheering for Iceland," said Isleifson. "And I guess if Canada plays against Iceland, go Iceland, go!"
Iceland has collected just one point from its two matches at the 2018 World Cup so far and will face elimination should it fail to beat Croatia in its final Group Stage match on Tuesday.